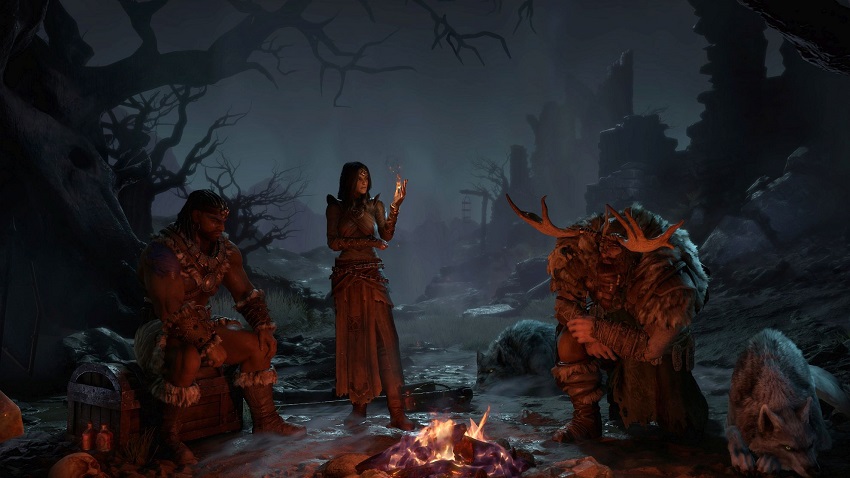 The cat is out of the bag, only the feline happens to be a Satanic envoy from the deepest circles of hell that wants to drag your soul back down to realm of damnation with it. After months of teases, secrets being locked away in the leakiest of boxes and a proper reveal over the weekend, Diablo 4 is finally official.
BlizzCon 2019 kicked off the reveal with not one but two fancy trailers: A showcase of their sublime CGI skill that made you feel like a giddy high schooler watching Diablo 2's infamous opening scene for the first time in 2000, and a brief teaser of the chunky combat. In case you missed out on the proper gameplay trailer, here's a fresh embed for you!
Beyond that, press assets also went live on the weekend and a bunch of new screenshots were released. An entire 19 of them to be exact, so sit down and get ready to scroll through a gallery of devilish still images that are already making me want to upgrade to a proper PC so that I can jam this sequel:
If you're happy that Diablo 4 is returning to its grimmer and macabre roots, then Blizzard's happy. Speaking to VG247, lead artist Matt McDaid revealed how the darker tone was a return to the more brutal aesthetics of Diablo 2:
The developers on the team enjoy Diablo 2 the most and what really resonates with us is that dark element, the dark factor. "We consider it the true Diablo, and we want to hit those tones again.
Beyond that classic design, manga horror maestro Junji Ito's particular style for the disturbing was also a major factor on Diablo 4's art design. Which is good news for anyone who thinks that Diablo 3 didn't have enough of twisted element coursing through its veins. "Junji Ito and some of the elements he brings in, kind of taking mundane things and twisting them, creating horror elements within that – then there's the Cthulhu mythos and some of the horror elements there, especially the fear of the unknown," lead quest designer Jason Roberts added.
There's no release date for Diablo 4 just yet, but judging by how nicely the game is currently shaping up it should be well worth the wait.
Last Updated: November 4, 2019