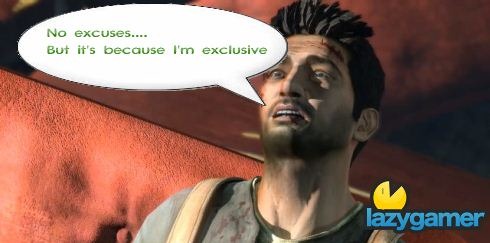 So the latest sales charts are out in the UK and while we never report on these I found this to be quite fascinating.
Apparently Uncharted 2 was unable to steal the number one spot from FIFA 10 and has debuted in second spot on the UK charts.
I am well aware of the British fascination with football, Liverpool for life, but I would think that every major fan would have already picked up their copy and it's Uncharted for pete's sake. The best game to his the PS3 this year…
Thankfully Operation Flashpoint beat out Wii Sports Resort but it is a little sad to see Brutal Legend sitting in 7th spot on it's first week. I really hope it gets a decent amount of sales.
FIFA 10
Uncharted 2: Among Thieves
Operation Flashpoint: Dragon Rising
Wii Sports Resort
Mario & Sonic at Olympic Winter Games
Need For Speed: Shift
Brutal Legend
Professor Layton and Pandora's Box
Halo 3: ODST
Fallout 3: Game of the Year Edition
Last Updated: October 19, 2009