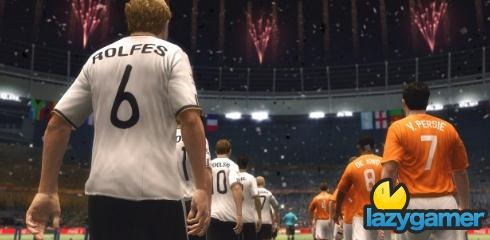 EA has announced the blatantly obvious 2010 FIFA World Cup game that will be arriving pre-WC 2010 which is obviously taking place in South Africa in June this year.
One of the best features that has been announced is an authentic 2010 FIFA World Cup online tournament mode where you will be able to compete online 24/7 with your favourite country against gamers around the world.
There is the WC qualification campaign where you can get hold of your favourite team and show the professional's how it's done. I am pretty sure I could get the SA team to win at least one game while also getting Argentina to the finals without the near death experience of failure.
So it's your patriotic duty to pick up this game and we are going to do our very best to organise some local tournaments with awesome prizes. However we have learnt from previous failed tournaments and this year we need a FIFA boss to run everything.
If you think you can run a few tournaments this year which includes setting up matches, collating results and giving weekly written reports back for publishing drop me a line (gavin@lazygamer.co.za) and we can see what we can organise. Yes it is a paid position but don't excited it will only be enough to buy a few games or beers.
Last Updated: January 27, 2010