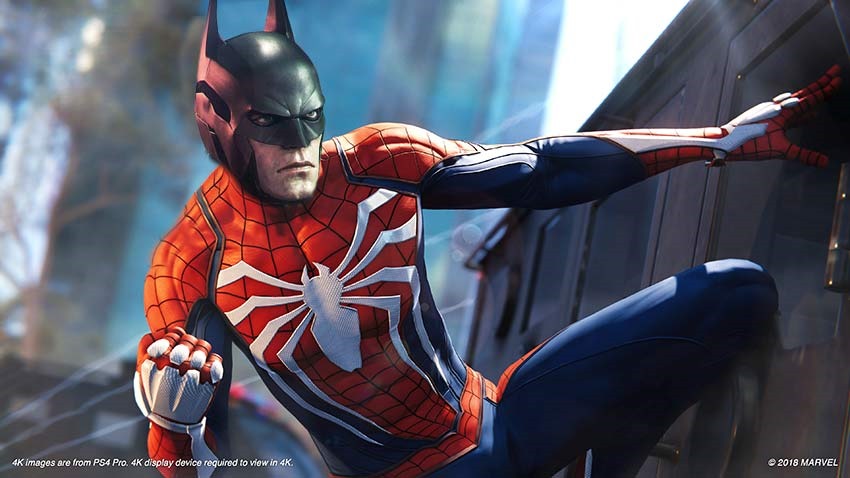 Look, there's no two ways about it: Spider-Man owes a lot to Batman. Specifically the upcoming Spider-Man game, which liberally borrows several elements from Rocksteady's stellar caped crusader series and weaves its own unique web of attacks. Where Spider-Man differs, is that it has a playful energy to its combat structure. There's an emphasis on acrobatics and quick-thinking, as opposed to Batman's more brutish ground 'n pound offense that incorporates numerous other gadgets into the mix.
That's not exactly a bad inspiration. Without the Arkham games, we wouldn't have gotten the superb bone-crunching martial arts of Sleeping Dogs or how LEGO: Ninjago simplified the mechanics to a more all-ages polish. Spider-Man runs with that influence, and adds a sense of fluidity and motion to the process that at least helps it feel familiar but different in action. A process which took developer Insomniac Games a long time to properly figure out.
"I would say, combat took longer because we hadn't made a ton of third person action melee games before," Spider-Man creative director Bryan Intihar said to Eurogamer.
We've done a lot of shooters, third and first person. So that took a while but it's funny; once someone said, let's try to make it more like an Insomniac game, everything kind of clicked.

We started getting him doing more aerial combat, we started integrating more of the gadgets. That's how the suit powers came to be; we had this week of meetings where we just started brainstorming all these suit powers and I even told somebody – it was like the president of our company Ted Price – it was one of the best Ratchet meetings I've ever been in because it was just classic like, 'this suit could do this,' and 'this gadget could do that.'
It really does show, when you slip into the web-slinger's boots. Spider-Man stays mobile throughout a fight, never staying still for a single second or inviting enemies to rush at him. Instead, he slips between them, ricochets like a pinball between mobs and uses his environment to his advantage to take down foes, while actively avoiding any chances to horrifically maim them as if he was a billionaire vigilante with too much money and too many parental abandonment issues.
With a bunch of previews going live across the web yesterday, Spider-Man also dropped numerous new screenshots ahead of its upcoming September release on PS4. Screenshots which you can see, right below.
Last Updated: August 3, 2018