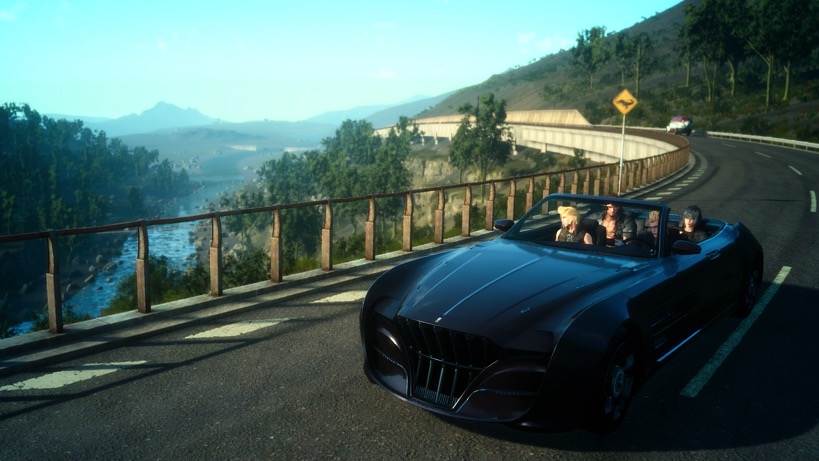 Despite being burned in the past, there's nothing like a Final Fantasy game to get me hyped for JRPGs again. I am so very excited to explore the game when it releases sometime next year (maybe), and despite all the public outcry, I really am keen on the all male party running around with Noctis. His companions do see to have outfits taken straight out of 90s boy band fashion, but there's a reason for it. Sort of.
Explained by Hajime Tabata (thanks for the translation, Siliconera), the black clothing wasn't just to make the guys look cool while wandering the countryside:
The clothing worn by the four main characters is the official battle gear of the Kingdom of Lucis.

Noctis is a member of the royal family and the other three characters are parts of various Lucian national organisations and they are each wearing the specific battle dress relevant to their individual stations.

In the Kingdom of Lucis where our heroes reside, the colour black has historically been treated as a special colour. Because of this, the attire of the royal family and those in occupations closely tied to them are unified by having black as a base colouring.

This part of the lore is the reason why the outfits of all four main characters are black. For the finished game we also intend on having their clothing having effects in battle and not just being a part of the world and its background. So watch out for that too!
I obviously grew up in New York because I didn't even notice that they were all dressed in black – doesn't everyone wear all black, all the time? But really, I guess it makes sense that they're all dressed in uniform or something as per their high standing in society. I'm just wondering what organization would include a uniform that requires a guy to bare his chest. I'm not complaining, mind you, just curious.
Last Updated: October 23, 2015