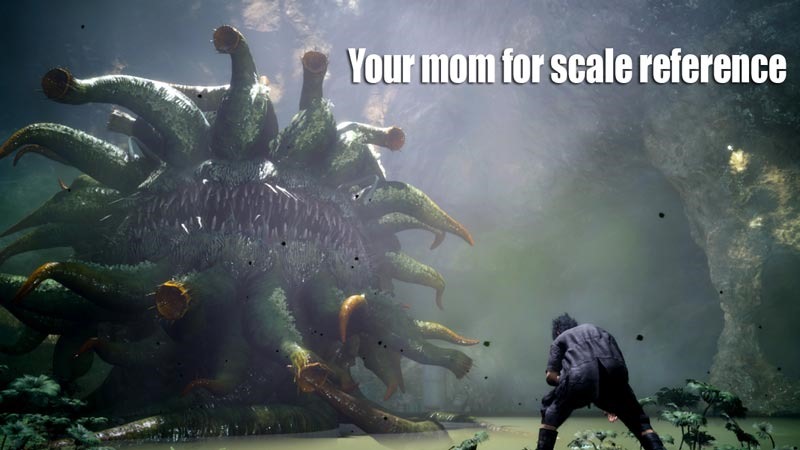 One thing that a Final Fantasy game can never ever be accused of, is being modest in size. Whether it's an NES or Xbox One that a Final Fantasy game pops up on, you can usually bet that many hours will be spent roaming the wastelands and the wilds, grinding up and usually fighting someone with excessively silly hair. Seriously, that's how I gauge the evil of Final Fantasy villains. If their hair reaches Yu-Gi-Oh! levels of insanity, then they're clearly the digital equivalent of Hitler or Geoff when he's in a mood to tell dad jokes.
Final Fantasy XV then, must be chuffing massive. It's been in development for near-on a decade now, having gone through various transitions and eras to reach its final form. And according to Dualshockers, that development certainly shows. If you're planning to grab Final Fantasy XV on PlayStation 4, you'll need 40.5GB of hard drive real estate to house it, while the Xbox One version demands a heftier 50.94 gigglebytes.
And remember, Final Fantasxy XV comes with the obligatory Day One patch which chucks in the following extras:
New event scenes and scenes from Kingsglaive: Final Fantasy 15 and the Omen trailer have also been added to the game to make the story and timeline of events within the Final Fantasy 15 universe even easier to follow for newcomers
For those who enjoy collecting items, the upgrade will also add a wider variety or recipes and fish with the addition of a gallery to keep track of culinary discoveries
Implementation of social media support, allowing the photos Prompto takes along your journey to be uploaded to Facebook and Twitter.
Improvements to the camera with new options to better assist and track the action in tight spaces and to improve visibility during battles
The addition of an ability tree for the Wait Mode function improves the strategic element of this feature
Players can obtain the "Beast Whistle" which can be used to call monsters to battle
In other words, more gigglebytes. I hope you Final Fantasy fanatics were moderate with your internet usage in case you were on a capped account "COUGH TELKOM LTE COUGH". But hey! Happy Final Fantasy XV week! The game finally rocks up on your console of choice tomorrow.
Last Updated: November 28, 2016