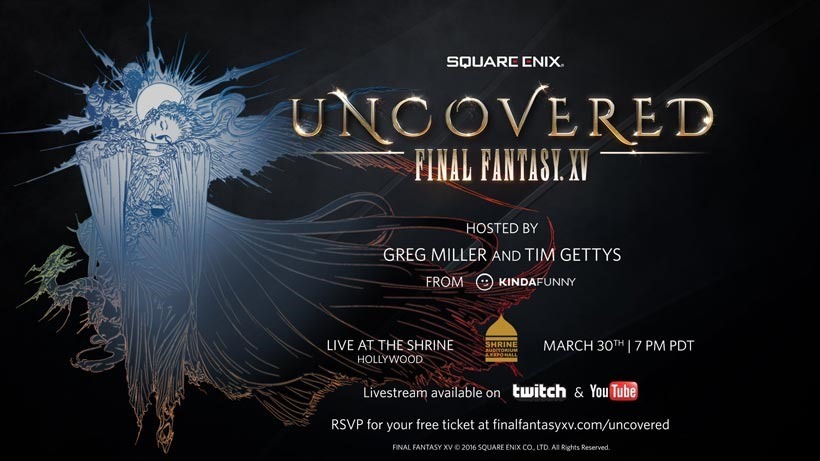 Ten years of development, an ungodly amount of money spent and containing more crystals than a homeopathic convention of quackery. That's Final Fantasy XV for you. The latest in Square Enix's premiere franchise is almost, almost finished by the looks of things as the publisher is pulling a page out of the Hollywood announcement book for the next chapter in the long-running series.
Namely, the mother of all teasers. In Hollywood, that's usually done by creating trailers for actual movie trailers. In gaming, things are taken a step further so prepare for an entire event dedicated to revealing the launch date for Final Fantasy XV. According to the latest Active Time Report, a lavish launch date announcement event will be held on March 30 at 7 p.m. PT in the gaming capital of the world: Los Angeles. Final details will be covered and information on special editions and DLC will probably be revealed as well.
For those of you who don't feel like hopping on a plane after watching Carte Blanche last night (AAAAAAAAAAAAAHHHHHHHHHHH), there'll be a live-stream on Twitch and YouTube as well. And to get you into the mood, here's some new gameplay of an assault on Niflheim:
Not too shabby, right? There's Crisis Core influence is still heavy, the User Interface looks noticeably more streamlined and the X-strike combo skill has me hot under the collar. And then there's the magic attacks. So pretty. Still want more? FINE. Here's a new gallery of screenshots via AGB to embiggen as well:
It's been close to a decade since Final Fantasy XV first began development under a completely different name, before being re-revealed as the fifteenth chapter in the core franchise back in 2012 for PlayStation 4 and Xbox One. Please, please let it be good. 2006 Darryn has been waiting far too long for this, and he still looks stupid with his terrible choice in mid-millennium clothing.
Last Updated: February 1, 2016