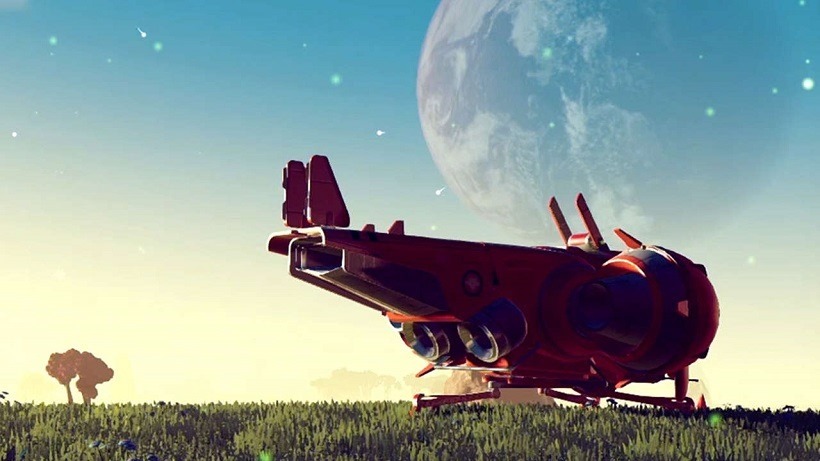 After years of having its release date shrouded in mystery, only followed by a delay just weeks before its initial intended release, No Man's Sky is finally ready. The procedurally generated space explorer has finally gone gold ahead of its early August release date, with Hello Games celebrating a project I don't even think they expected to get so large. It captured the imaginations of gamers everywhere after its reveal, and it's finally so tantalisingly close.
Hello Games' Sean Murray revealed the news last night, tweeting out a photo of a suitably celebratory studio with the first finished copy of the game burned and ready for printing. The game will now be sent to distribution, where it'll be printed, boxed and shipped for launch. In case you didn't know how things worked from here.
It's happened. No Man's Sky just went gold. I'm so incredibly proud of this tiny team. 4 years of emotions pic.twitter.com/YJoI6JVgxq

— Sean Murray (@NoMansSky) 7 July 2016
No Man's Sky was initially revealed at the VGX Awards all the way back in 2013, and absolutely stole the show. Hello Games, who had previously only worked on much smaller (but excellent) titles such as Joe Danger, were the surprise recipients of a world full of attention. It made development hard for them, especially after the studio flooded shortly after the game's reveal.
Having the weight of expectation on the shoulders of a small studio has been the topic of many discussions over the years, and it's still a matter of time before we see just how well the game lives up to expectation. It's expectation that Sean Murray has had to somewhat manage over the years, as prospective players let their imaginations run wild. No Man's Sky is really like nothing we've really seen before, but its procedurally generated universes will have to entertain as much as they already have bewildered audiences.
It's out on PC and PS4 early next month, and I can't wait to get lost.
Last Updated: July 8, 2016