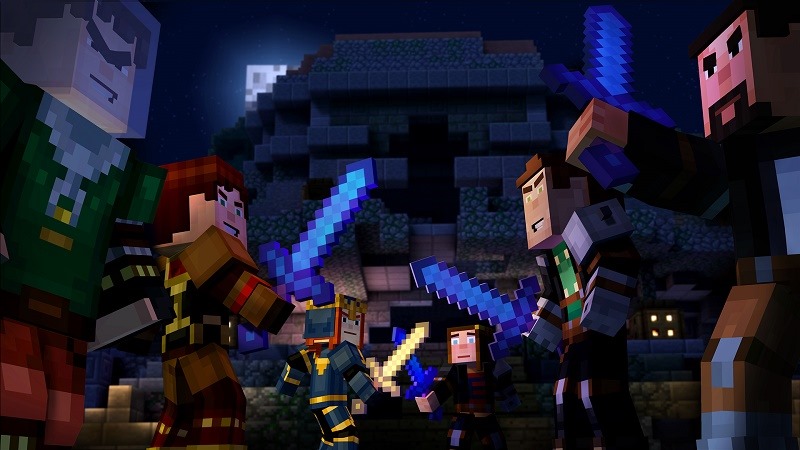 Despite having the biggest soft spot for Telltale Games, I've not yet gotten around to playing Minecraft: Story Mode. I just can't get my head around the fact that that square world has had an entire narrative with actual characters attached to it.
I really shouldn't be so quick to judge however. Just look at what Telltale did with the Borderlands franchise for example. What made that series so special in the first place is its shooting and looting. Somehow though, without either of those, Tales from the Borderlands still managed to be pretty damn phenomenal.
Then again, Pandora already had its own lore and such to begin with. Minecraft on the other hand, well, it's just a game that gives players a giant playground to build stuff. Is there really a story worth exploring there? I guess I can find out for myself now, or at least get a taste without spending a cent, because the very first episode of Telltale's blocky saga, The Order of the Stone, is now free across multiple platforms:
New players can now download Minecraft: Story Mode – Episode 1: 'The Order of the Stone' for free on Xbox One, Xbox 360, Windows 10 via the Windows Store, compatible iOS devices via the App Store, and compatible Android devices via Google Play and the Amazon Appstore. The episode is also free to download on PlayStation 4 and PlayStation 3 in North America, and will be free to download on PS4 and PS3 in Europe VERY soon as well!
Geoff actually reviewed the first episode when it came out last year. Here's what he thought:
The story presented in this first chapter isn't the most engaging, but the writing, coupled with the detail makes it all come together. As is usual though, I find it hard to recommend until all of its episodes are released and we can judge it as a whole – but this first episode is indeed promising, laying the groundwork for what should be a grand adventure.
Unfortunately, Geoff wasn't too impressed with the rest of the saga. But what does he know? He hates everything!
Me? I'm an easy going kind of guy, and like I've already said, I love Telltale. I trust them, so I'm going to grab The Order of the Stone. When will I play it? Who knows – it's going straight to the top of my backlog. When I do eventually dive in though, maybe I'll like it enough that I'll just go ahead and grab the entire season pass, which includes the remaining… seven episodes? Holy hell they really did drag this tale out!
Last Updated: October 24, 2016