Minecraft, the block building and breaking game from Mojang is so heavily reliant on user creativity, that it seems some sort of focused narrative spin on it would be wholly disparate, feeling out of place. Minecraft is, by design, devoid of storytelling. The best stories in Minecraft and its procedurally-generated worlds come from emergence; the stories you make while you're playing the game.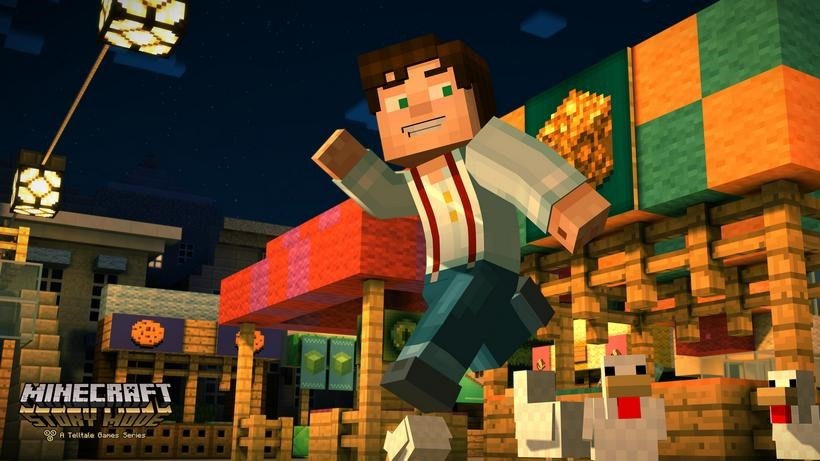 Minecraft doesn't really need a story, and that's one of the reasons its works. It all makes Telltale's latest endeavour, a Minecraft story spinoff, seem like a thoughtless, ill-considered cash-in.
Thankfully it's not. Bearing all the hallmarks of Telltale's games to date, Minecraft Story Mode is a whimsical, charming adventure set in Mojang's world, traditionally steeped more in mythos than predefined narrative.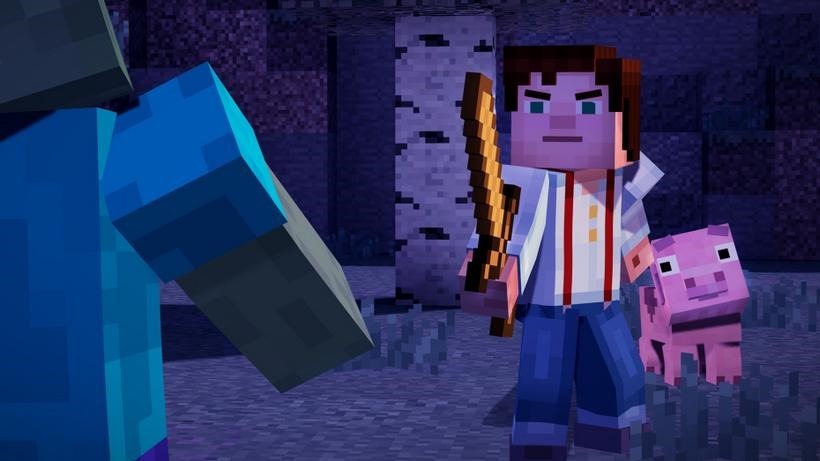 It doesn't really stray far from Telltale conventions, so if you hate how Telltale's adventures work you're very unlikely to be swayed, no matter how much you love Minecraft. It uses the same bag of tricks throughout; timed responses that characters will remember, actions that determine the outcomes not just later on, but in future episodes, a mix of adventuring, action sequences and quick time events.
You start off selecting a character from 6 predefined ones, all given the same androgynous name; Jesse. For reference, I chose a lady Jesse (the character is voices by either Patton Oswalt or Catherine Taber depending on your choice), and set off adventuring. Jesse and her friends aren't the cool kids in town, but they're off to take part in the annual Endercon, the local building championships and hopefully, finally win this time.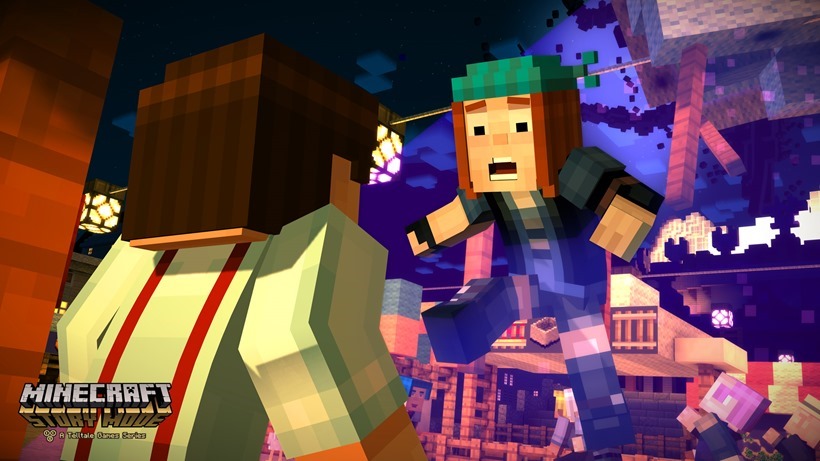 Things go awry, and it all ends up in a giant wither sucking up everything. It sets Jesse and her friends – Axel, Olivia, Petra, and Lukas – on a quest to find the heroes that make up The Order of the Stone, vanquish evil and save the world. It's typical adventure fare, reminding me a little in its tone of The Goonies, and the old Dungeons and Dragons cartoon.
It starts off a bit slowly, but the pace and excitement ramp up later, and I was left, much to my surprise, finding myself not only enjoying the experience, but eager for the next episode. I'm not the biggest Minecraft fan, so that's saying something about the quality of writing and the delivery – but my kids, a pair of 11 year old Minecraft addicts were enraptured, following everything as I played, laughing at the silly in-jokes and cheering for the characters. It's less gritty and dark than most of Telltale's recent output, intended as it is for children – so many of its choices seem, at least for now, to be less ambiguous.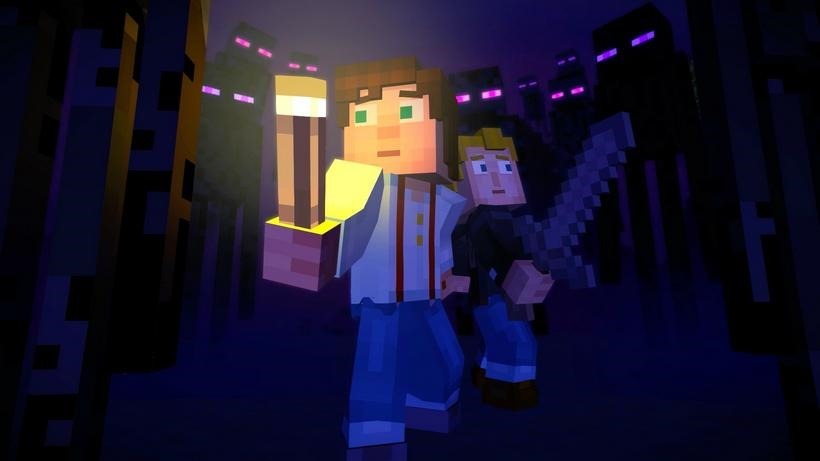 It's filled with in-game references to Minecraft lore, even employing a few mechanics from the world-building phenomenon. In your adventures, you'll sometime have to craft items at a crafting table, using the same recipes you'd use in Minecraft. Made in conjunction with Mojang, it nails the aesthetic and the finer detail, with block characters that mirror their proper Minecraft ones, and other little bits of fan service, like the frustration in finding Lapis Lazuli instead of a diamond, or the cheer terror that chickens are capable of creating. There's a bit more action here than other Telltale games, mirroring the sort you'd find in Minecraft, haphazardly swinging swords at zombies, and cursing when wooden ones break at the most inopportune moment.
Last Updated: October 23, 2015
Minecraft Story Mode Episode 1: The Order of the Stone

The story presented in this first chapter isn't the most engaging, but the writing, coupled with the detail makes it all come together. As is usual though, I find it hard to recommend until all of its episodes are released and we can judge it as a whole - but this first episode is indeed promising, laying the groundwork for what should be a grand adventure.

Minecraft Story Mode Episode 1: The Order of the Stone was reviewed on Xbox One