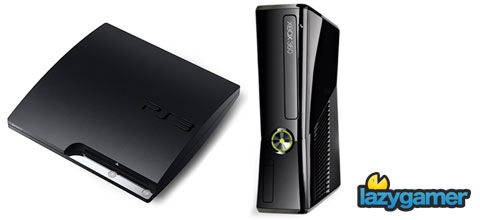 PS3 vs Xbox 360… Xbox 360 vs PS3, we have heard all of the angles. Which one is more powerful, which one has the better disc this and online that.
Today that means absolutely bugger-all as we hit it out with an all out beauty contest. The PS3 slim is a smaller version of the Playstation 3 fat, but is it better looking when it's sitting on the shelf? If we want to jump back to the sportscar metaphor, I see the Playstation 3 as an Aston Martin DB9, and the slim as the smaller compact V8 Vantage (with matt paint).
As for the new Xbox 360, I think of it like a Pagani Zonda. It has ludicrous lines and vents and now sports the very same black gloss that the Playstation 3 had, making it look kind of insane. The thing about the Pagani Zonda, is that some people think it's the best looking Supercar in the whole world, while other people think that it just looks ridiculous and over the top and the same can be said about the mixed reactions that have arisen over the new Xbox 360's design.
So the question is, which one do you think looks better?
Last Updated: July 16, 2010