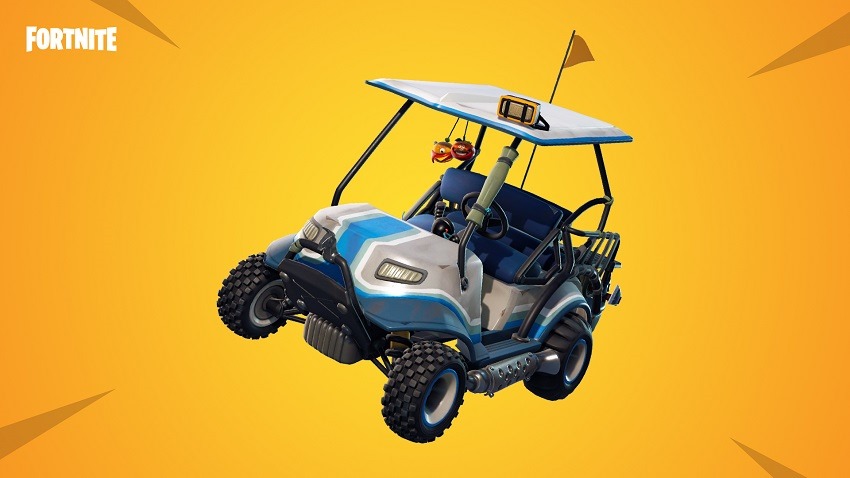 The only good thing to ever come out of golf, was golf carts. Rugged, able to cover ground quickly on its tiny wheels and almost successful in murdering Johnny Knoxville, golf karts are brilliant. They're also now in Fortnite, as Epic Games' battle royal title now gives players the chance to hop into a buggy of death in season 5's antics.
So where the hell are these All-Terrain Karts? Much like everything else in Fortnite Battle Royale, ATKs are spread across the map and you'll need a bit of luck finding one when you spawn into a game. They're well worth it though, as they can seat four players and they're quick on the ground. You can even do a Regular Show power slide in them.
To find them, here's a list of the locations where they spawn at often. Alternatively, here's a video from gaming lab that should provide visual aids for ya:
Where to find the ATK in Flush Factory
Just northwest of the Flush Factory, an ATK usually spawns into the car park area
Where to find the ATK in Lazy Links
Next to the pond, in the North-East section of Lazy Links
Southwest of Lazy Links, near a row of garages
Where to find the ATK in Paradise Palms
In the garage near the skyscraper that's north of this location, cast your peepers on the garage outside to spot an ATK
Where to find the ATK in Racetrack
On the western side of Racetrack, go to the car showroom where'll you spot an ATK inside
In the race track car park, an ATK also spawns there regularly
In the main building, check the garage area for an ATK
Where to find the ATK in Snobby Shore
Go south until you reach a row of five houses and check the home that is stacked with security cameras. An ATK should be at the front gate
North of Snobby Shore, you'll find two more ATKs: One on the road, another at the east side of the Northernmost house
There's probably more locations where the ATK will spawn in, but for now the list above should give you a good headstart. Now remember, ATKs are meant to be driven stupidly, dangerously and with absolute glee. Just try not to kill Johnny Knoxville again, if you don't mind.
Last Updated: July 13, 2018