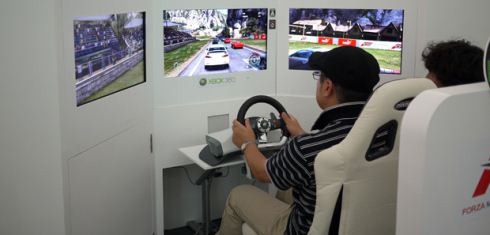 In some ways it's a pity this story has popped up while most people are taking a long weekend as it would have been enjoyable to be ignorantly abused just before my weekend. But then again maybe not.
Destructoid are at TGS right now and one of their guys has managed to have a go at both the Forza 3 and GT5 demo's on display and has put together a comparison article about the two.
Some of the most notable comments about a single title are
"Plants and trees on the side of the road look like paper cutouts, and the tree trunks are laughably bad"

"Driving slow in [Redacted] is like inviting disappointment. I guess they were hoping you'd always be moving fast enough to not notice the perfectly flat tree and pole textures"

"[Redacted] doesn't do that. In fact, side of the road items like cones and tires don't even seem to be affected properly by impact."

"I don't need true-to-life physics on these types of collisions, but this looked closer to the movement of a UFO than a stack of rubber tires"
And that single title that took all the flak was Gran Turismo 5. Apparently while it is good it just isn't as good as Forza 3 at the moment which is going to be a shock to all GT fans.
Now the first thing that someone is going to yell is that GT 5's only 65% complete and therefore this is to be expected.
True, but GT5 has been in development since before Forza 2 which makes it laughable that this comparison is heading Forza 3's way…
If GT5 loses a head to head comparison on it's release next year March I think Sony could be forgiven for wanting Polyphony Digital's head on a platter.
Source: Destructoid
Last Updated: September 25, 2009