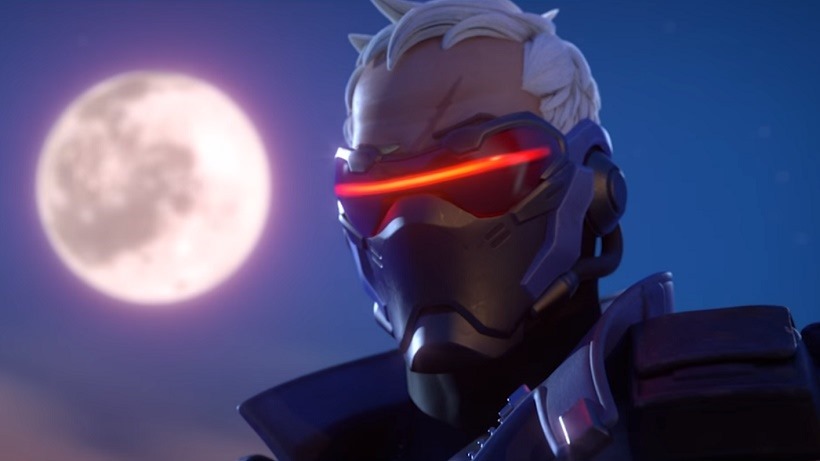 We interrupt your regularly scheduled programming to bring you this breaking news…
There are reports that the international fugitive "Soldier: 76" has been sighted in Dorado. Last seen in the USA following a string of attacks on former Overwatch facilities, it appears that he may have crossed the border into Mexico.

If you have any knowledge about the individual's whereabouts or activities, please contact the authorities. A reward of $10,000,000 has been offered for any information leading to his capture.
In completely unrelated news, LumériCo CEO Guillermo Portero has announced the completion of the Dorado nuclear plant. How nice – clean energy for everybody in Mexico. That doesn't sound like it could attract trouble AT ALL!
Except, it will, and (I assume) we'll get to catch all that action in the final Overwatch animated short, "Hero". It's just debuted, and it's begging to borrow your eyeballs for just a couple of minutes…
Old habits die hard for one ex-Overwatch agent in our fourth and final animated short for this season: Hero. "Hero" follows the masked vigilante Soldier: 76 on a personal mission to Dorado where he's set to investigate the illegal activities of the Los Muertos gang—but an unexpected complication threatens to compromise his objective.
Oh my, what complication was there? Did Soldier: 76 make it out alive? DAMMIT DON'T ANSWER THAT! Why? Because I've not yet seen the video, and I don't need spoilers thank you very much.
I'm writing this in advance so that when "Hero" debuts, I can give it my undivided attention. Once I've watched it a good few thousand times, I'll write about all the teeny tiny details I spotted, just like I did for "Recall", "Alive", and the most recent video, "Dragons".
Anyways, now I'm sad, because there are no more animated shorts to look forward to… for now at least. Take a look at this little titbit of information I spotted in the blurb above:
"…in our fourth and final animated short for THIS SEASON…"
Hot damn. I always knew Blizzard would go on pumping out Overwatch media, but having some official sort of confirmation that they're definitely planning more has made me incredibly happy! The four animated shorts they've published already make up a first season of sorts.
I wonder how long we will have to wait for the second? I can't wait!
Last Updated: May 22, 2016