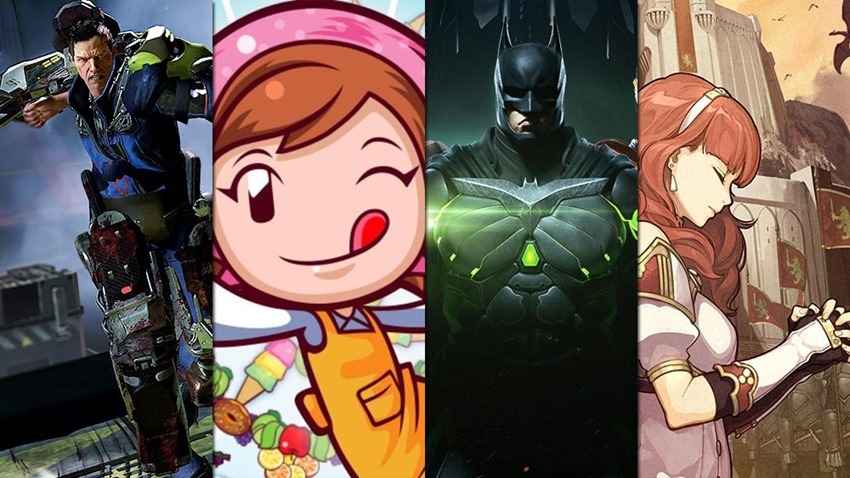 Listen, before Geoff gets here I just want to quickly mention that Mortal Kombat Vs DC Universe wasn't a bad game at all, because it set the scene for Warner Bros Interactive that giving people the chance to kick the man of steel right in the lil' Kryptons was actually a profitable idea. From that crossover that erased the stench of Justice League: Task Force forever (The Batman & Robin of superhero fighting games) came Injustice: Gods Among Us.
Fast forward a few years and much like anything decked out in spandex, it's time for a sequel baby yeeeeaaaahhh. There's also a few other games not related to Martha and Thomas Wayne getting a high-velocity lead injection out this week, that looks like proper fun: Farpoint hyper-jumps on to PSVR, The Surge busts out a tech-heavy stab at the Dark Souls crown and Fire Emblem goes old school.
That might actually be my favourite game on the list, as Fire Emblem Echoes: Shadows of Valentia is perfect for any fan of the series who wants a challenge without any of the modern-day crutches of recent chapters in the franchise. Here's the full list of games out this week, according to US release dates because we all live in a connected world these days. Some European dates may differ:
Tuesday May 16
Injustice 2 — Xbox One, PS4
The Surge — Xbox One, PS4, PC
Farpoint — PSVR
ACA NeoGeo Over Top — PS4
Akiba's Beat — PS4, PS Vita
Baila Latino — PS4
Deemo: The Last Recital — PS Vita
Future Unfolding — PS4
Hakuoki: Kyoto Winds — PS Vita
Operation Babel: New Tokyo Legacy — PS Vita
Seasons After Fall — PS4
Tango Fiesta — Xbox One, PS4
Wednesday May 17
Bokida: Heartfelt Reunion — Xbox One, PC
Black & White Bushido — PS4
Oceanhorn: Monster of Uncharted Seas — PS Vita
Mr. Pumpkin's Adventure — Xbox One
Bokida – Heartfelt Reunion — PC
Thursday May 18
Cooking Mama: Sweet Shop — 3DS
Thumper— Switch
Emporium — PC
Old Man's Journey — PC
Cooking Witch — PC
Friday May 19
Fire Emblem Echoes: Shadows of Valentia — 3DS
Skylar & Plux: Adventure on Clover Island — Xbox One, PS4, PC
Chroma Squad — PS4
Shadow Warrior 2 — Xbox One, PS4, PC
A Walk in the Dark — Xbox One
Mayan Death Robots: Arena — Xbox One
Which game are you looking forward to the most this week?
Last Updated: May 15, 2017