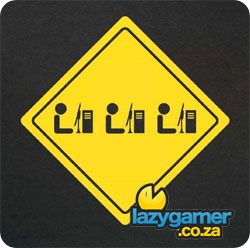 The Wits Wargames Club,  in conjunction with The Lair, will be hosting this year's Gauteng eSports Championships. These are, according to Mind Sports South Africa, the only officially recognised LAN championships.
The competition will take place on the weekend of March 21 (That's this weekend for those of you who are calendrically challenged) at the Old Mutual Sports Hall in the Wits University. Registrations must be in by this Wednesday 18th March to be eligible – So those of you who're looking for provincial (and potentially national) colours should get those forms filled ASAP.
Hit the jump for more information, including which particular games will be played.
The games that'll be played are :
PC
Call of Duty 4
Starcraft
Quake 3
TrackMania Nations Forever
Counter Strike 1.6
Team Fortress 2
DotA- Allstars
Xbox 360
Gears of War 2
Guitar Hero (3, presumably)
Playstation 3
Fifa '09
To participate in a MSSA Online Computer Games League/Championship you need to have completed the following items:
Complete the MSSA Online Registration form. PLEASE NOTE: If you are currently not a member of a club, you will be defaulted to the "Knights" club. Should you wish to create your own club, the forms are available here.
Please check that all the details are correct and print and sign the form.
Pay your Registration and Entry fees into the Mind Sports South Africa's bank account being; ABSA, account number: 9047667676. For an explanation on the cost for registration please click here: payment explanation. Please note that if you have already paid your annual MSSA Registration fee, you MUST NOT pay it again as Registration Fees apply to the entire season (1 November to 31 October).
Fax your registration form (or Entry Form) together with your proof of payment to 086 672 1911.
MSSA will contact you with all league/championship arrangements via the e-mail account you have provided.
PLEASE NOTE: Late registrations for Online Leagues will NOT be accepted. Late Registrations for LAN Championships will ONLY be accepted if the minimum number of required players has already registered on time.
Entry fees are:Â Â Â Â  R100.00 per Computer Game, e.g. Starcraft, Counter Strike, etc.
The Lair have proven themselves to be both adept and efficient at organising and running tournaments – so even if you're not all that serious a gamer – at least you'll have a heck of a lot of fun.
Last Updated: March 16, 2009