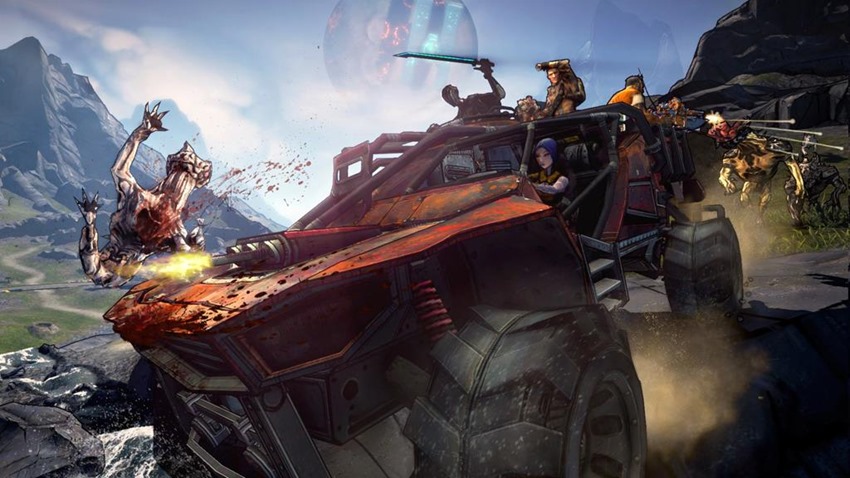 I'm starting to feel a bit old lately.
My hair has, in typical idiocy unique to me, decided to skip going grey and settle on white instead. I'm even more disgusted with popular music than ever before, every afternoon I spend an hour shaking my fist at the clouds in the sky for leading a carefree lifestyle and I've even considered getting something that the elders of the past referred to as a pen-shun fund. Whatever the hell that is.
In all that time, I've always been a big fan of Borderlands. Gearbox managed to score a home run in 2009 with the first game, that blended an addictive grind for loot with some memorable boss encounters, fascinating lore and an entire quartet of actually damn good DLC. Remember fighting General Knox? How about Dr Ned's zombie island? Good times, as encapsulated here in this specific bit of waffling.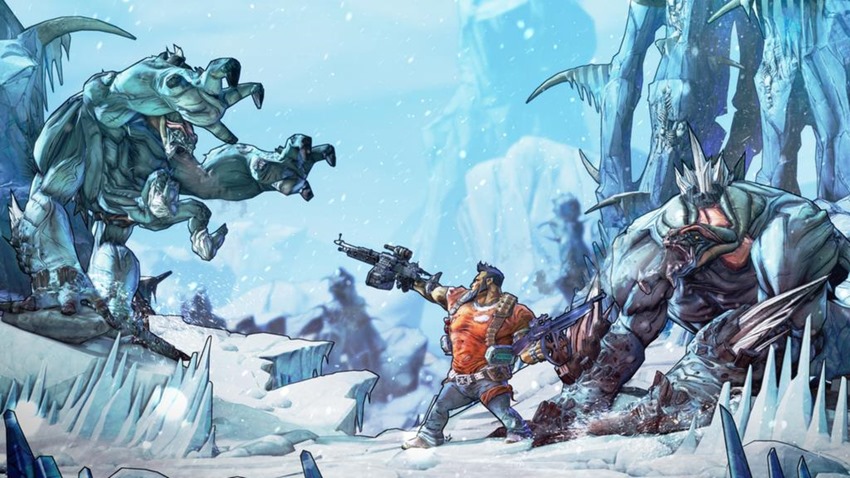 Borderlands 2 was more of the same, but just better in every single way that mattered. A charismatic villain who helped move the story along? You got it. More absurd characters and guns? Double-check. Even more Claptrap shenanigans? Okay, maybe not everything was an improvement, but you get the gist of it.
Hell, I still love the Pre-Sequel, and I'm probably on my own here. It was more Australian than Crocodile Dundee eating a Vegemite sammich while driving a Ute. I'm probably on my own here, but combined with the Claptrap DLC campaign and that tough as nails Holodome arena? It's a hell of a package, and those two games probably represent Borderlands at its very best (and worst whenever I mention my Pre-Sequel love to Geoff and Al).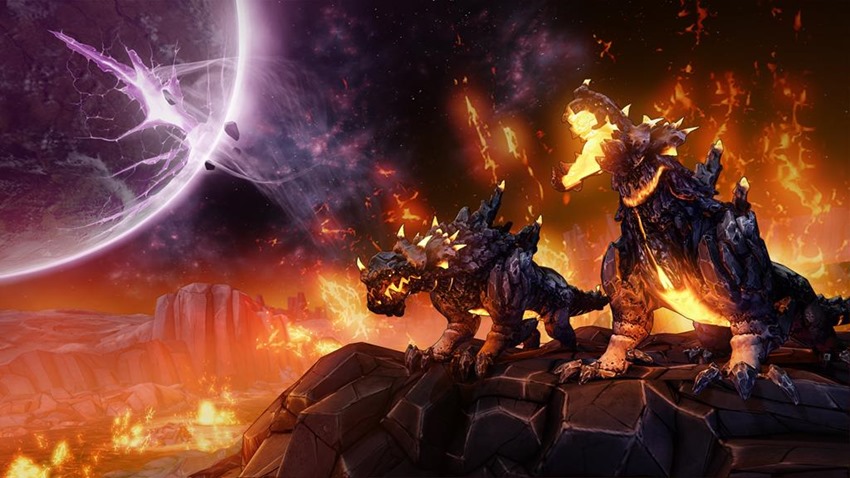 It's an era that has been given the remaster touch in the past, as 2016's Handsome Collection of Borderlands 2 and the Pre-Sequel was a solid bundle of value. Two games, plenty of DLC. Wham bam thank you ma'am. If you happen to own the collection or were curious about Borderlands, then the last month has kind of been a bonus.
Between the hoopla of Borderlands 3, Gearbox boss Randy Pitchford stalling for time with a magic trick and people wondering just why the hell anyone would use anything other than VLC media player to broadcast a new trailer, there was also news of the Handsome Collection getting a free facelift. A stack of new UHD textures were released, with the visual upgrade taking full advantage of PC hardware as well as the PlayStation 4 Pro and the Xbox One X's extra grunt in the processing department, making a pair of sexy games look even more gorgeous.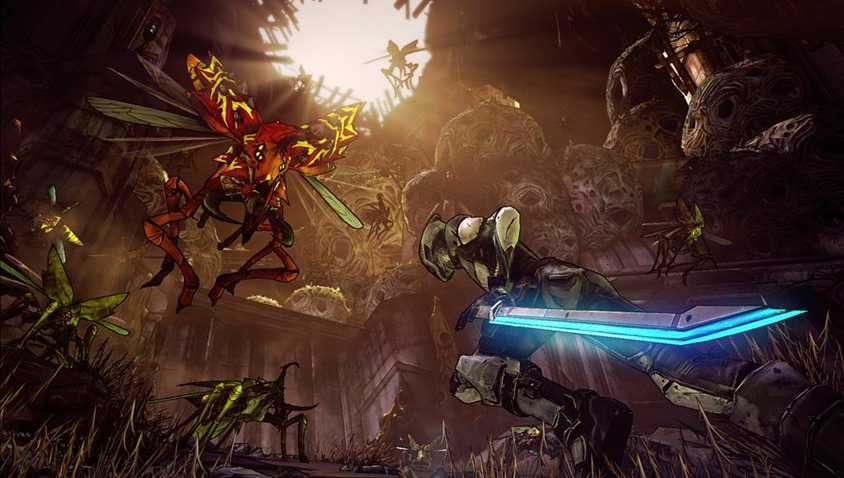 That's not to say that base PS4 and Xbox One versions of the Handsome Collection didn't look colourful and vibrant already, but that added 4K layer? There's only one word that can be used to describe it: Decadent.
So what's the takeaway here? You've got a pair of terrific games, a ton of extra content and they simply pop on a proper 4K display when run on the right hardware. I know the more cynical amongst you will eyeball this update as Gearbox making a quick buck by giving Borderlands a shot in the arm, but hey: there's a lot of hard work that goes into making an old game look this good again.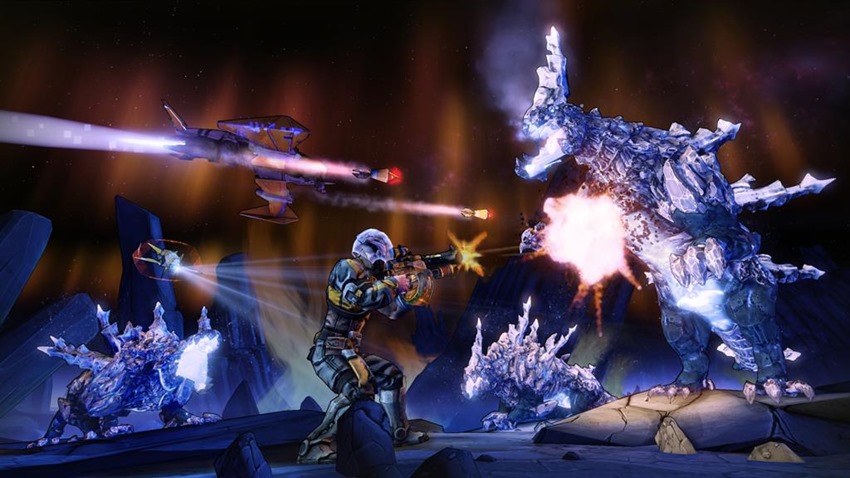 I'm more optimistic by nature, and to me, seeing this collection reinvigorated with those 4K upgrades makes for a product that wants to preserve itself. While the base gameplay still holds up fantastically today, the same can't be said about the original visuals of Borderlands 2 and its pre-sequel. Released back in the Xbox 360 and PlayStation 3 era, those graphics may still have some charm to them, but the limitations of the time make for some massive cracks on the surface.
The cel-shading is thick and jagged, the frame-rate is a dog's mess when the action gets too hot and the colour is somewhat muted when properly looked at. Now? Borderlands looks fantastic, and ready to keep that facade up for many a year to come. At the very least, it's the legacy of Borderlands that will still continue to shine long after the biggest AAA game on the block has begun to look dated.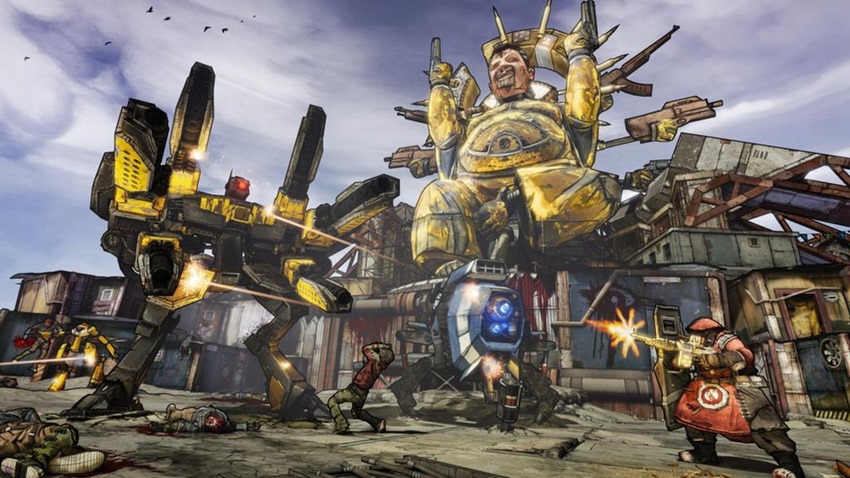 Heck, just look at franchises such as Assassin's Creed or Grand Theft Auto. Stunning examples at the time, which happen to now be a haven for weird textures with a hint of realism that has been lost to the sands of time. With Borderlands favouring cel-shading and comic book colour palettes instead of attempting to bridge the uncanny valley divide, the series has managed to give itself not only a longer visual shelf life but a platform that has been improved upon…handsomely.
Last Updated: April 15, 2019