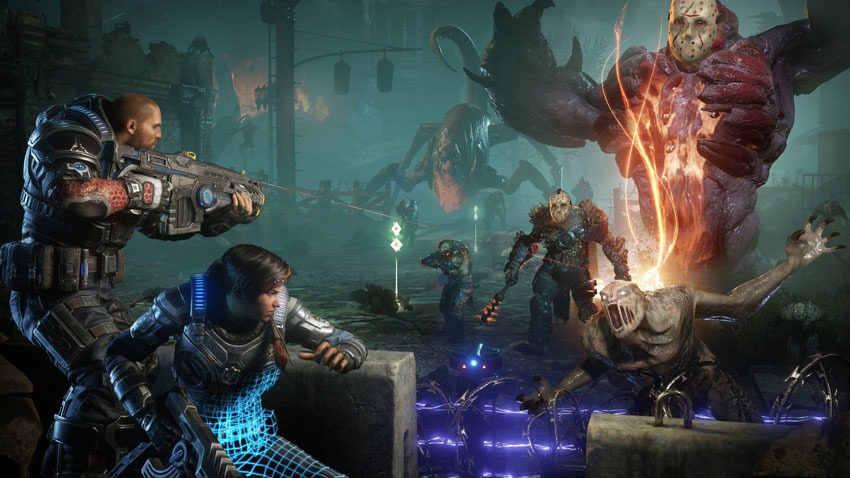 I've just started playing Gears 5, Microsoft's new big budget action romp starring burly soldiers taking on even burlier nightmare abominations from beneath the surface of the planet they happen to be inhabiting, and already I'm loving the heck out of it. It has the cinematic value and presentation of an E3 demo, the acting is top notch and the overall beauty of this game is obscene when you're running it through a well-specced PC or an Xbox One X.
It's also a lengthy game, one that plans to be around for a long time once the dust has settled from the main campaign, as players dig deep into PvE and PvP activities. Beyond what's already on offer, what else can players expect from Gears 5? Seasonal activity! Similar to Destiny 2's seasons, Gears 5 plans to support itself with post-launch bundles of activity that go by the name of Operations. "Our post-launch support is defined by Operations – each lasting 3 months," developer The Coalition said in a blog update.
We are currently in Operation 1, and Operation 2 will begin in December. Every Operation kicks off with a major content update that can include new Versus modes, new maps, new Escape Hives, new Map Builder Tiles, major features, new Characters to earn and more. Inside each Operation is Tour of Duty in which you can earn cosmetic content via Seasonal Medals and Active Tour Challenges.

If you want content from a Tour, you'll need to earn it before the next Operation because – once that Tour is done – then so is the content inside of it.
So what's Operation the first all about then? With Gears 5 out and The Coalition looking to squash some pesky bugs now that the game is out in the wild, the rest of this month's Operation will focus on dropping new supply cards, weekly special events and new characters to unlock: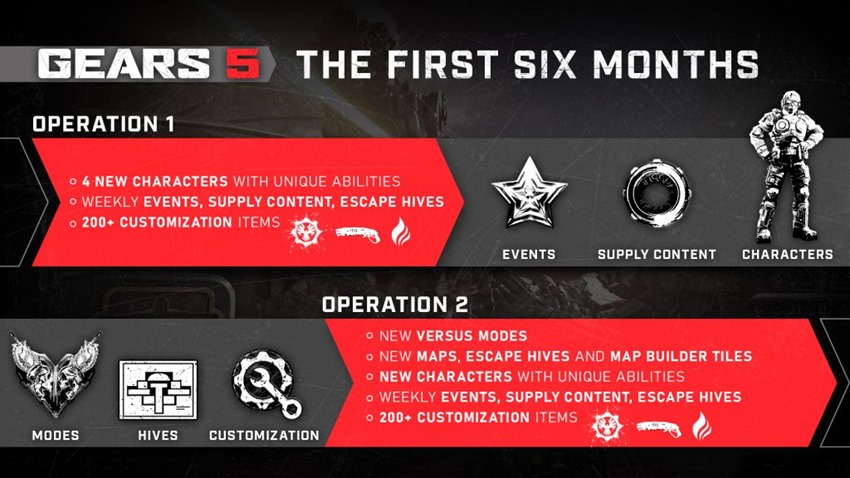 Every Tuesday, we'll drop new cards into the Supply pool and add a featured Escape Hive to master with your Hivebusting squad. Work for those leaderboard placements, because rewards are up for grabs in both the Featured Escape Hive and Ranked Playlists (with weapon skins up for grabs during certain weeks).

Every Tuesday also marks the refresh day for the Weekly section of the Gears 5 Store. Previous items will be vaulted and a new limited-time suite of content will be introduced for the week. Beginning in early October, weekly Special Events will arrive in Gears 5 for both Versus and Horde to provide fresh ways to experience Gears MP – look out for old favorites like OSOK and some new surprise playlists too.

Later in October, we'll be releasing new Characters to earn including a new COG Hero with Ultimate abilities and Skills for Escape and Horde!
As for Operation 2? Here's the cliff notes version of what you can expect come December:
Versus Modes
Multiplayer Maps
Characters including COG Heroes
Tiles for Map Builder
New featured events
New weekly Escape Hives
New weekly Supply Drop content
Sounds good! Gears 5 isn't just another Gears of War with a number slapped to it, but so far it feels like the kind of game wherein The Coalition can truly make their mark and push the series forward with some cool new ideas and a storyline that has actual ramifications for the cast caught up in it. It's basically Scrubs with VREEEEEEEEEEEEM.
Last Updated: September 13, 2019