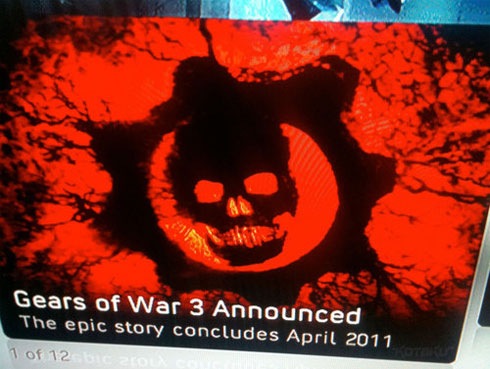 Despite not actually being announced yet, it's been confirmed that Gears of War 3 will be hitting the Xbox 360 in April of next year. How is it that we know this?
I know this, because Tyler knows this. And Tyler turned on his Xbox. Some poor sod over at Microsoft HQ flipped a switch a little early, and an advert for the announcement showed up on the Xbox Dashboard. Oops! That's taken the wind right out Cliffy B's sails, I'm sure. We have no details other than a date as yet – but I'm sure we'll find out more next Monday after Cliffy's date with occasionally funny Jimmy Fallon.
"The epic story concludes April 2011". Here's hoping the multiplayer component rocks.
Last Updated: April 9, 2010