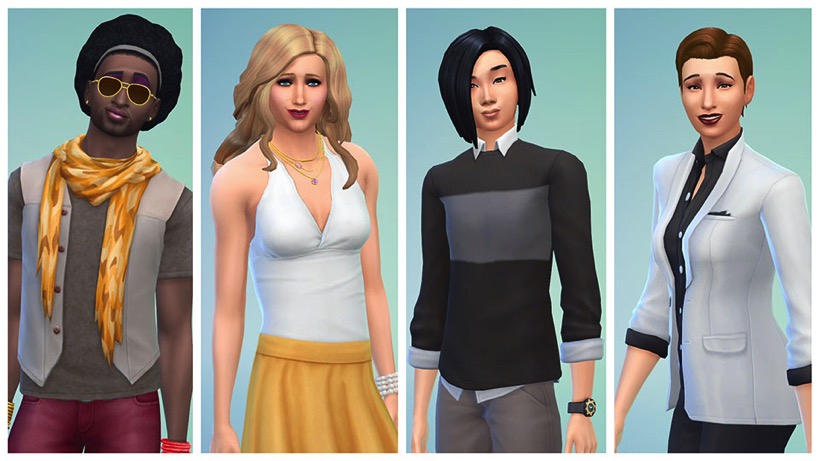 The Sims has always been progressive in its approach to sexuality. Like most EA games, it allowed players to create characters who could be straight, gay or bisexual. The range of sexual orientation made it a favorite title to hold up as an example for LGBTQ-positive gaming. And now The Sims 4 is taking it a step further in a new free update.
Until now, players would select a gender for their character, and this would determine which clothes, hair styles, physiques, walk styles and tones of voice would be available. Well those boundaries are no more – in fact, over 700 pieces of content that were previously only available to either male or female Sims have been made available to all Sims regardless of their initial gender selection. This is across the base game as well as previously launched packs.
The Sims is made by a diverse team for a diverse audience, and it's really important to us that players are able to be creative and express themselves through our games. We want to make sure players can create characters they can identify with or relate to through powerful tools that give them influence over a Sims gender, age, ethnicity, body type and more.
Want your funky lady to try out a short coifed hairstyle and "boyfriend" jeans? Not a problem anymore! Here's the nice little trailer showing off some fun ideas.
I think this is fantastic for players of all kinds. For those people who don't identify as cisgendered, it means that they can create characters that are more representative of themselves. But for those who never really thought about gender fluidity or what it means to be male or female, it simply means more customization options. So, if you don't really notice trans-positive things in your day to day life, this won't get in your way, but if gender fluidity is important to you, it is an excellent way to feel recognized. Also, it means that some really unique Sims can now be created – some of our best looking models and celebrities walk a pretty androgynous line, and now they can finally be recreated. Nice idea, EA.
Last Updated: June 3, 2016