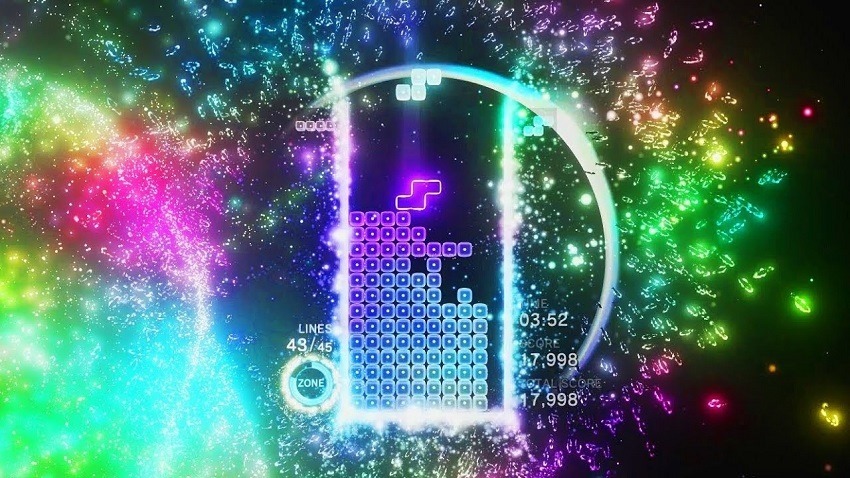 Tetris has never been my type of game, despite it being arguably one of the most perfect ones ever created. It's a combination of my lack of skill and its old, dull presentation that just doesn't appeal to my millennial mind, but it's a problem that has been solved by numerous modern titles. One of those is Lumines, or more recently Lumines Remastered which I've dived back into on Nintendo Switch. It's combination of music and slightly tweaked rules makes Tetris fun again, so it's no surprise that the same studio is doing the exact same thing with Tetris Effect.
Enhance has become a renowned name in gaming, after both Rez Infinite and Lumines Remastered reminded everyone of just how great their abstract, rhythmic games are. Tetris Effect is a simplification of what Lumines offers, giving you the chance to play real Tetris without the rolling elimination line present. But it's not without its own quirks. It's bright, colorful and filled with some incredible music. And if that alone hasn't sold you already, a small taste of Tetris Effect might just tip the scales later this week.
Enhance has announced that a demo for their latest game will be up on PSN this November 1st, giving you a sample of what is to come later in the month. The demo should presumably work in both 2D and 3D, with the latter allowing support for PlayStation VR. Enhance says that players can expect a silky smooth 60FPS on both base and Pro PS4 consoles, while the latter will enjoy a full 4K resolution bump.
Tetris Effect is out proper on November 9th, and it's looking absolutely incredible. After seeing it played at E3 and becoming addicted to Lumines again recently, it's one of the final surprises of the year that I can't wait to get my hands on.
Last Updated: October 30, 2018