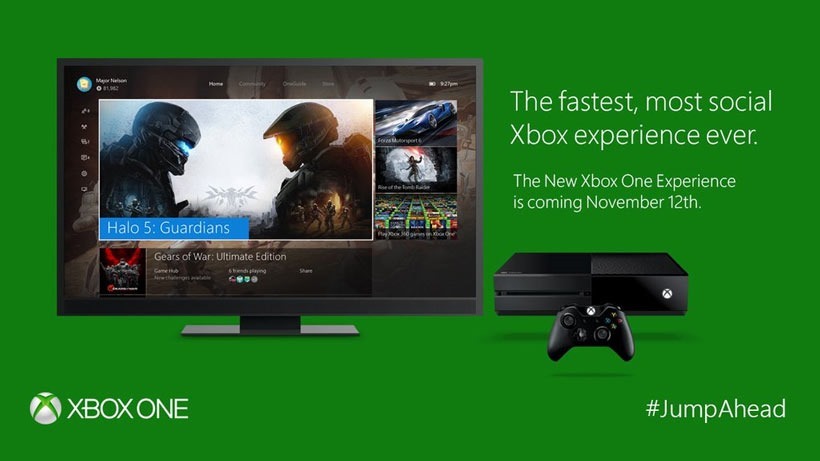 Right now, the Xbox One's user interface is hot garbage; a disparate array of loosely connected apps that are meant to work together, but don't. Not really. Most of this is because the interface was designed with Kinect in mind. Since the motion and voice-sensing peripheral has found itself extricated from the Xbox One's base package, most owners have to use their controllers instead of their voices or movements to control the fancy box.
That's just one of the issues; another principal one is that it's slow, it's laggy and it's just not an especially fluid or intuitive interface to use. That's changing. The new Xbox One experience has been in testing for ages now, available only to those in Microsoft's preview program. By all accounts, it's fast, it's fluid and its makes using the Xbox One a dream.
It's coming soon. The rest of us will be able to level up our Xbox Ones in just two weeks. It'll bring the Xbox One in to the Windows 10 ecosystem, with a zippier interface, new features – and the much celebrated backwards compatibility that people will use once before realising they don't actually want to pay their old games.
"Take command with the New Xbox One Experience, a completely re-imagined user experience that gives you instant access to everything you want, when you want it — so you can spend more time gaming. With the new guide on Xbox One, never leave full-game mode again to add friends, join parties, or check messages. And with Cortana, a personal gaming assistant that gets smarter with use, you can request critical information when playing and schedule events across your Windows 10 devices."
You'll be able to update to the New Xbox One experience on November 12.
Here's a list of its major and most notable features
Xbox 360 games on Xbox One: At launch you'll be able to play over 100 Xbox 360 games on Xbox One with hundreds more in the months to come. This includes the added benefit of Xbox One features including screenshots, streaming, and game DVR – for your favorite Xbox 360 games. You can even play multiplayer with friends still using their Xbox 360.
New Guide: You can access the Guide from Home by pressing left or double tap the Xbox button on your controller to instantly overlay the Guide. You can access Friends, quickly start a Party, get to Settings, see System Notifications, view your Messages, and more from Home or without leaving your game. These are the top tasks Xbox fans do most often, so we focused on making them faster and easier to get to without disrupting your game.
Redesigned Home: It's faster and easier to get to the things you love. We're introducing a faster and easier interface to provide access to games and apps you've recently used. At launch you'll be able to more easily share your achievements and game clips with the Xbox Live community, see whether your friends are playing the same games and get one-click access to Game Hubs to get news and updates directly from the developers and community themselves.
New Community section: Based on your feedback, this section is optimized to help you tap into what other gamers are doing on Xbox Live and directly contribute to the conversation happening within the Xbox Live community. Check out what your friends are up to or keep track of the games you follow in the redesigned Activity Feed. Explore the new Trending section to view the most popular posts from players on Xbox Live.
Revamped OneGuide: From OneGuide, you can see a list of current trending live TV shows with the most viewers at that moment on Xbox. TV listings will now come up instantly and in full-screen, and we've added a picture-in-picture mode for TV so you can browse for other things to watch without missing what's happening in your show. We'll highlight a selection of the most exciting new movies, TV shows and deals from across the apps on Xbox One and the new App Channels area will show you the latest movies, TV shows and videos highlighted by the apps you care about.
Store optimization: To the right of OneGuide, you'll find the new and improved Store with features including four easy to explore areas – Games, Movies & TV, Apps, and Music – and a new vertical gallery view to bring more listings at a glance. Browse through intuitive categories like Staff Picks, New Releases, Top played, Top rated, Coming Soon and Recommendations to discover new games, apps, and entertainment for your Xbox One.
Last Updated: October 27, 2015