by Lisa Haasbroek
Lets talk about ladies and games for a minute! If you're a man and a gaming addict, chances are good your wife or girlfriend might not be as hot on your hobby. Have you ever wished she'd understand the importance of beating the next level? Well, okay, there's good reason she's not as enthused, and it goes beyond wanting you to throw out the trash. While there's tons of women who kick butt in your typical hack and slash, many of us simply don't go in for action shooters. For a long time, that was the majority of the market…so its no surprise that many women came to view gaming as a "guy thing."
Times are changing. According to the ESA (Entertainment Software Association), 38% of gamers are women. The average woman plays 7.4 hours per week, compared to 7.6 hours for men, and the gap is narrowing. For arguments sake, let's say the women in your life is NOT one of the 38%. How do you encourage her to adopt a new hobby? The answer – start by finding games that appeal to HER. Over the next few articles, we'll look at some games which might just spark her interest…

PC CASUAL GAMES
This is a good place start, since we can assume that mostly everybody reading has a PC at home. Casual games refer to budget games which target a large audience, requiring little skills to play. Kind of like the gaming equivalent of a "B" movie. Many can be downloaded at home for a free trial before you buy, costing as low as R50 each (its worth shopping around for the best deal).
I. Time Management Games
Time management games have players multitasking to care for children or serving customers, and are generally considered "soft" action games. This is one of the most popular genres for casual game fans.
Carrie the Caregiver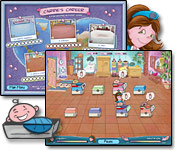 As a maternity nurse, its your job to feed, burp and diaper all of the cute babies in your care. The babies make cute realistic cooing sounds which is such a nice touch. Babies have their own personalities, so you need to manage that too. Loud babies cry and wake up others, while happy babies take a long time to feed, and preemie babies need extra care to avoid getting sick. This is perfect for Mommies-to-be. The sequel, Carrie the Caregiver 2: Preschool has Carrie working as a preschool teacher.
Sally's Salon
Make over time! Customers come in for a wash, cut, style and blow dry. They sometimes ask to have their eyebrows plucked, or want a manicure too. Your job is to keep them happy and gorgeous while managing your salon. You can even hire assistants to help.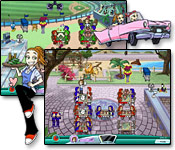 Ever dream of running your own restaurant? Serve customers and develop your own food chain as you waitress your way to riches! You must seat the customers, bring them their menus, take orders, serve food, and clean up. The more customers you serve, the more cash you earn. If you take too long, the customers get angry and leave. Levels start off easy, but get harder and more frantic as you advance. "Diner Dash: Hometown Hero" is the fourth installment of the Diner Dash series, and the originator of the time management genre.
Other recommended titles in this genre: Cake Mania, Wedding Dash, Jane's Hotel, Fashion Craze, Paradise Pet Salon, Daycare Nightmare, Turbo Pizza, Burger Shop, Nanny Mania, and Miss Management.
II. Hidden Object Games
Remember I-Spy games? In this genre, you search through a series of cluttered rooms, searching for hidden objects and revealing clues to a mystery or pieces of a story. This is another popular genre for casual gamers, with numerous titles to choose from.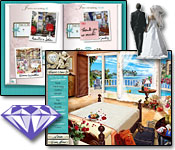 This is a beautiful and romantic hidden object search, with a detailed story. Your best friend Jenny is getting married, and she needs your help to plan the wedding! As you search through wedding themed locations, you also guide the story by choosing the details of their romance, and selecting items like the cake and bouquet. Dream Day Honeymoon is the sequel.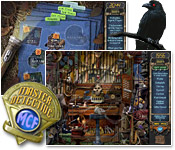 Investigate the haunted Ravenhearst Manor, and solve the mysterious disappearance of a young woman years before. Armed with only journal entries, you must solve the mystery of Emma's life piece by piece, with truly disturbing ending. Others in this series include Mystery Case Files: Madame Fate, Mystery Case Files: Prime Suspects, and Mystery Case Files: Huntsville.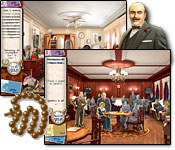 If you're a fan of the novels, you'll enjoy this mystery. While searching for clues to the murder of Lynette Doyle, you also interrogate suspects and watch the story unfold. Agatha Christie: Peril at End House is the latest release by these developers.
Other recommended titles in this genre: Mystery of Shark Island, The Scruffs, Hidden Expedition: Titanic, G.H.O.S.T. Hunters: The Haunting of Majesty Manor, Travelogue 360: Paris, Magic Academy, Abra Academy
III. Simulations
This is a pretty broad category, including all games which require you to put yourself in someone else's shoes. Sims are among the best selling casual games on the market, appealing to both male and female gamers of all ages. The games reviewed below fall in to the "casual games" category of computer sims.
Just about every woman I know is a fan of this show. The game puts you smack dab in the middle, interacting with the characters, solving mysteries from the show, smacking your enemies, and even stealing their husbands if you choose! You can even learn to cook. This game is only available on CD, but because it is a budget title, I'm grouping it in with the casual games. Make sure you have the right system requirements, because some users have trouble running it on their home computers.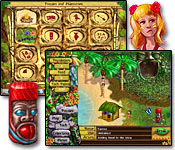 After being shipwrecked, your villagers are now stranded on a mysterious desert island. You must guide your villagers into learning new skills and occupations, mating and having children, and surviving under harsh and unpredictable conditions. The game runs in real time, which means your villagers keep playing even when your PC is off. You might leave and return the next day to find a new baby, or that a villager passed away. Virtual Villagers: A New Home was the first in this series.
Pet Pals: Animal Doctor
Animal lovers will be unable to resist this game. You play as a Veterinarian, examining and diagnosing pets, and coping with emergencies along the way. It's full of educational trivia. You also groom the animals in your care, learning different tools of the trade. Very unique, and a lot of fun. Legacy Interactive is a female-owned and managed company which produces many games like this one, which are designed to appeal to female audiences.
Other recommended titles in this genre: Kudos, Kudos Rock Legend, Beauty Factory, The Apprentice – Los Angeles, Cute Knight, Zoo Vet , and Ciao Bella.
IV. Adventures
This is another broad category of games, but adventure games can generally be thought of as any game with a focus on story development, exploration, and puzzle solving. Point and click adventures are reminiscent of Monkey Island and Space Quest, where users collect and use inventory items. Still other adventures may involve solving mysteries or questing.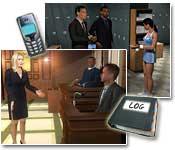 Unravel a complex mystery involving torrid love affairs, family scandals, and twisted obsessions. Then, take on the role of a district attorney, and convince the jury to bring back a guilty verdict. If you've ever seen the television series, you know what to expect. The 3D graphics are a lot of fun. Others in this series include Law & Order – The Vengeful Heart, and Law & Order – The Vengeful Heart.
Nancy Drew: Curse of Blackmoor Manor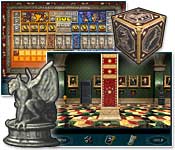 A haunted mansion, a diplomat's daughter, a mysterious illness…it's a true Nancy Drew mystery, full of puzzles to solve. The ending blew me away. There are many Nancy Drew games available, like Nancy Drew – Danger by Design, Nancy Drew – Last Train to Blue Moon Canyon, or Nancy Drew – Danger on Deception Island. You're bound to find a theme that suits your fancy. Her Interactive is another woman-owned gaming company which makes games that target female audiences.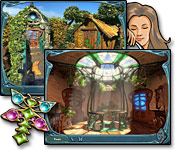 This game is gorgeous. You play as Faye, who awakens to find her husband missing, and her daughter and kingdom under a sleeping spell. Who is behind this? It's not purely an adventure – more like a combination of puzzle solving and hidden object, with a fantasy inspired mystery. The art is very beautiful, and will appeal to fans of Fantasy.
Other recommended titles in this genre: The Blackwell Legacy, Aveyond, The Three Musketeers, Azada
Happy Gaming!
Next Up…Wii console games with female appeal.
Last Updated: December 3, 2007