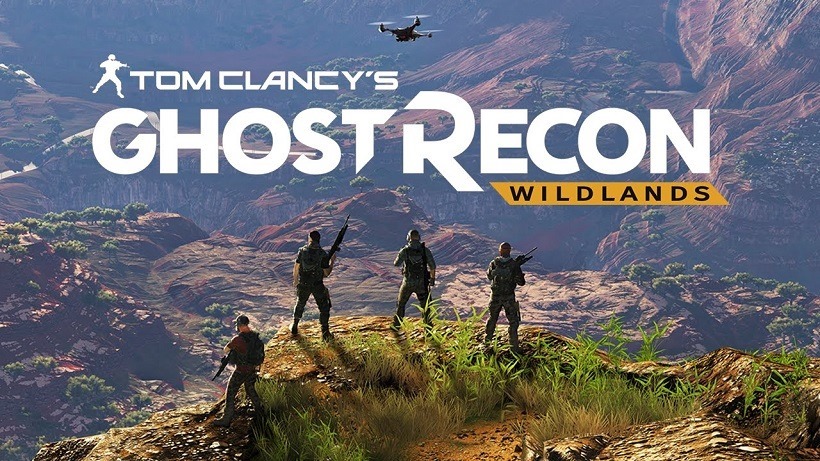 At E3 last year, Ubisoft managed to do something that I really didn't think was possible. Ubisoft revealed Ghost Recon: Wildlands, and sudden;y the franchise that has been synonymous with the Tom Clancy name was suddenly interesting again. Don't get me wrong, those Advanced Warfighter games were entertaining and all. But Ghost Recon was lacking the gritty, tactical warfare that I loved so much back in the day, and Wildlands was bringing that back in a big way.
Although, not in the traditional sort of reboot way, but a more evolved state. Back at E3 last year I was treated to a behind closed doors demonstration of the game, which should off all the intricate behaviours Ghost Recon would now be baking into its world. Instead of one troop, you're able to buddy up and tackle the game with a team of four players, poking and prodding the sandbox world you're flung into to see how it reacts. Wildlands is about dynamism, and it certainly looked promising nearly a year ago.
The demo showed off just how differently you could approach objectives. If a cartel was too well defended at their safe house, a small disruption in a nearby village could distract a few security forces to make the job easier. Or maybe two teammates could completely dummy the target, and chase him right into the sights of a sniper on the otherwise of the map in a high-speed chase. Wildlands is bringing not only tactics but creativity to the forefront of it's design, and it's about time we learnt more about it.
Ghost Recon: Wildlands has reemerged nearly a full year after Ubisoft showed it off, and it's like it never missed a beat.
There's a large emphasis on the camaraderie of the four man Ghost Unit this time around, but also a keen focus on just what being a Ghost means. These are men above the ranks of soldiers, plunged into the harshest environments for months on end for missions that could never end. The idea of the unit over the individual is stressed in the trailer, but also ideals of preparation, execution and above all else, survival.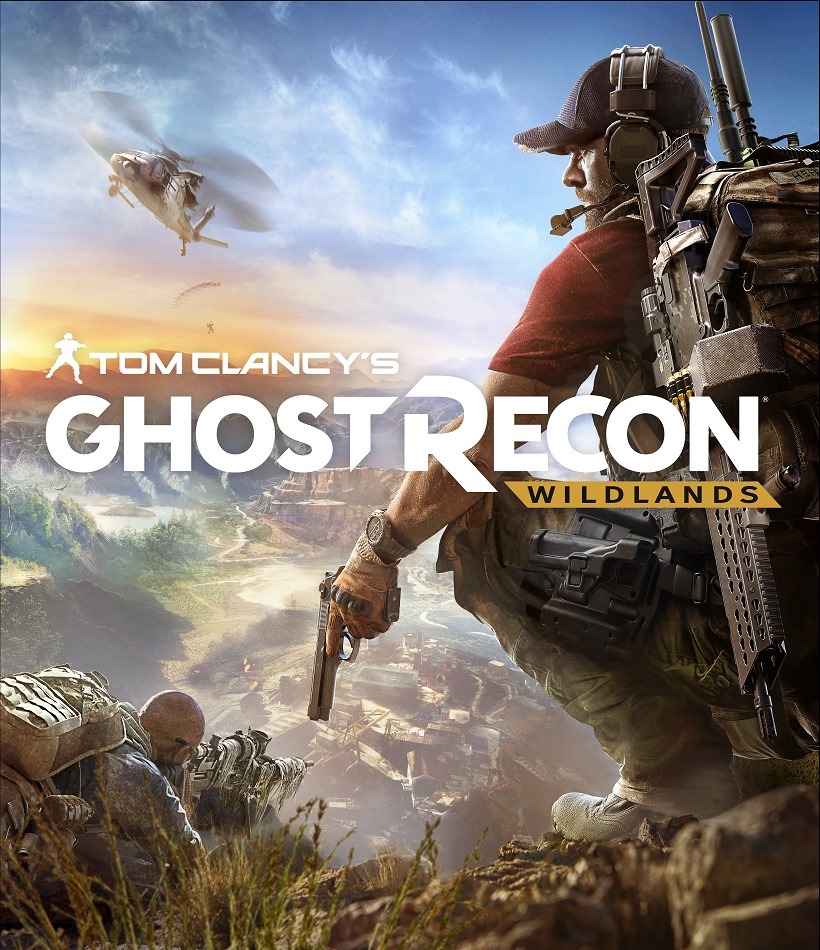 Wildlands Creative Director Eric Couzian says that there is nothing more important to the game than communicating these pillars of the Ghost unit.
"Ghosts are survivors and hunters, they can blend in all sorts of environments, leaving no trace except in the heads of their terrified enemies. We want players to feel this power."
Here's a gallery of screens captured from the trailer.
Along with the new trailer, Ubisoft has revealed three different editions of Wildlands that will be available for pre-order from today. The three in ascending order of included goodies are The Deluxe Edition, The Gold Edition and what Ubisoft is naming the Calavera Collector's Case.
Deluxe Edition
Contains the Standard Game as well as these additional in-game items:
The Huntsman rifle and motorbike
3 emblems, 3 weapon camo
3 character customization items and a XP booster
Available at digital and retail, with retail editions also including a map of Bolivia and the original soundtrack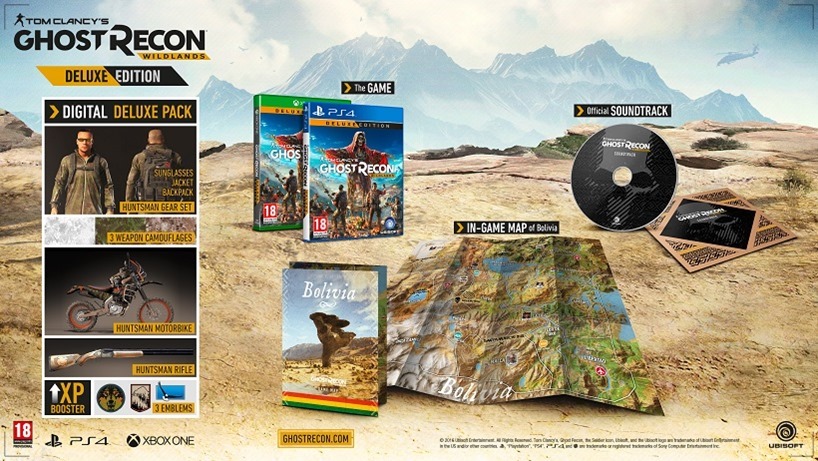 Gold Edition
Contains all the content from the Deluxe pack, but features the Wildlands Season Pass. This pass will grant access to two planned expansion packs releasing sometime after launch, as well as additional in-game items periodically released during the same time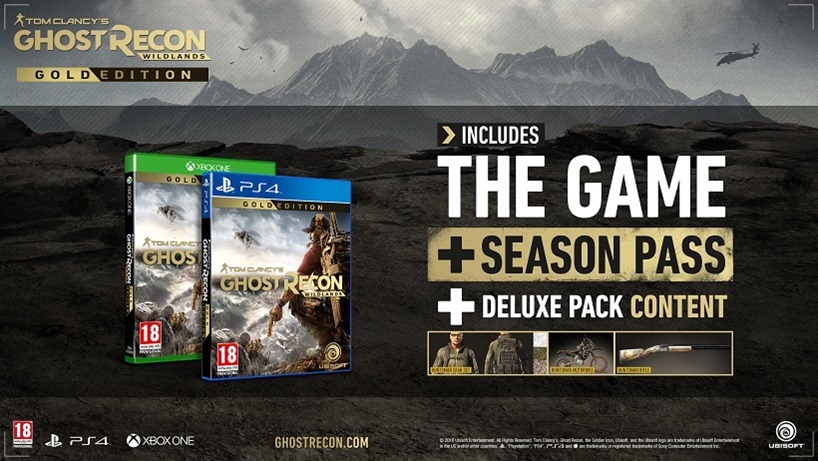 Calavera Collector's Case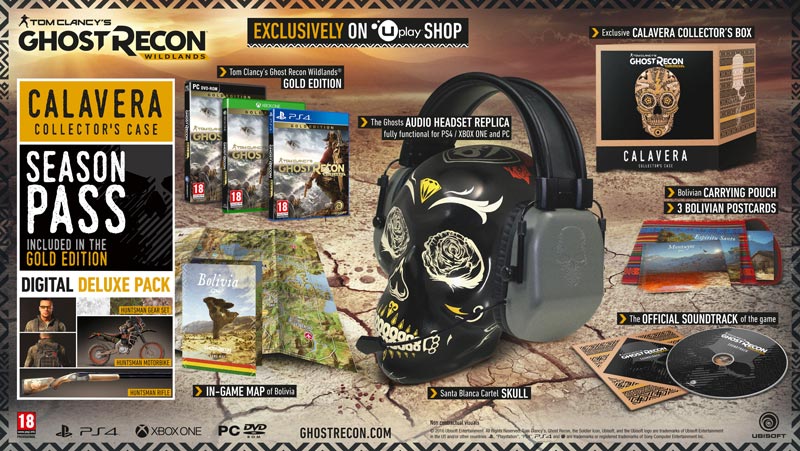 A UPlay Shop exclusive, the Calavera Collector's pack comes with all the equipment to operate as a Ghost plunged deep dive into Bolivia to take down the vicious Santa Blanca cartel. It also includes a Santa Blanca Cartel Skull, an in-game map of Bolivia, the original soundtrack of the game, a Bolivian carrying pouch and 3 post-cards of Bolivia. This along with the Gold edition of the game mentioned above.
There's no exact release date for Ghost Recon: Wildlands just yet, but this sudden reappearance just on the eve of E3 makes me suspect we'll be getting a much closer look at the title in the weeks to come. This is just one of Ubisoft's big titles for the year, but it's certainly one to keep a close eye on.
Last Updated: May 26, 2016