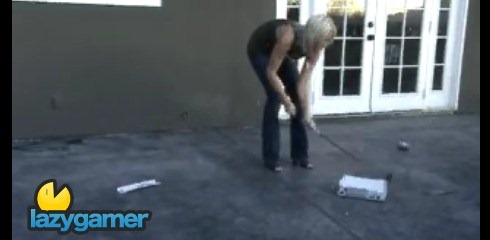 Okay so along with the other big sites out there we are also realising that there is just no news at the moment, which makes it really hard to populate an entire days schedule and leads to bizarre stories like this making the cut.
But this one is actually something I think a lot of you should think about. Basically the video after the break shows a not so bad looking lady attempting to destroy her boyfriends Xbox as he pays more attention to it than he does to her.
The scary thing is that I have heard of a lot of men ignoring their wives/girlfriends and playing games instead. To the point where the ladies in the relationship start losing their self confidence and things start to get really ugly.
If you are playing games and your better half is wanting to have an actual relationship then you have a duty to yourself and all of us to turn the games off and go be a real man. 
And for the ladies out there, if you are allowing your mans gaming to affect you this badly you seriously need to resolve your self confidence issues and leave the loser.
*She should be shot for swinging a golf club so badly
**End of community service announcement, go to work. Maybe hide your gaming console before leaving.
[Update] The boyfriend responds… ouch
Last Updated: November 26, 2009