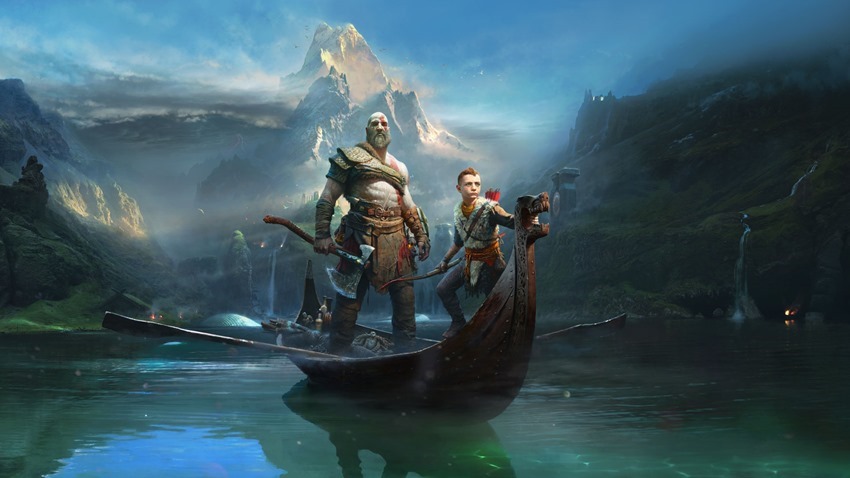 If anyone ever tells you that single player games are dead or dying, Look at them with intense derision. I'm not one to advocate unwarranted violence, but you should probably smack them upside the head too. If anyone tells you that exclusives don't matter, feel free to do the same.
The April NPD results are out, and Sony's God of War has demonstrated that single player games can still sell very well indeed, and that exclusives are also incredibly important. Released on 20 April, God of War instantly shot to the top of April's sales chart. Not only that, but it's partially responsible for an 18% year-on-year increase in video game related spending which has gone up from $699 million to $823 million.
God of War has had the best ever launch month of any PlayStation 4 exclusive in terms of Dollar sales. It's also propelled Sony to heights not seen since the last generation.
"PlayStation 4 software dollar sales in April 2018 set an all-time April high for any platform since tracking began in 1995," NPD analyst Mat Piscatella said. "The record had previously been held by Xbox 360 and was set in April 2008."
So good are God of War's sales that the game is now the third best-selling game of the year, behind Ubisoft's Far Cry 5 at number one, and Capcom's Monster Hunter World in second place.
God of War has also helped Sony sell more PlayStations.
"PlayStation 4 generated the highest April unit sales for a console since Nintendo Wii in April 2009, and the highest April dollar sales for a console since Nintendo Wii in April 2008," said Piscatella.
Of course, there are a few things to be wary of when looking at NPD numbers. They often don't include digital sales, so don't paint a complete picture of US game and hardware sales. Even so, it is painting a picture of an industry that's pretty healthy right now. Here's the top 10 for April. It's worth noting that 6 of the best-selling games for the month are system exclusives.
God of War 2018
Far Cry 5
MLB 18: The Show
Labo Variety Kit
Donkey Kong Country: Tropical Freeze*
Mario Kart 8*
Grand Theft Auto V
Call of Duty: WWII
Super Mario Odyssey*
NBA 2K18
PlayerUnknown's Battlegrounds**
Tom Clancy's Ghost Recon: Wildlands
The Legend of Zelda: Breath of the Wild*
Monster Hunter: World
Tom Clancy's Rainbow Six: Siege
A Way Out**
Yakuza 6: The Song Of Life*
Sea Of Thieves
Kirby Star Allies*
FIFA 18**
*No digital sales included
**No PC digital sales included
Here are the best-selling games of 2018 to date:
Far Cry 5
Monster Hunter: World
God of War 2018
Call of Duty: WWII
Dragon Ball: Fighterz
Grand Theft Auto V
NBA 2K18
MLB 18: The Show
PlayerUnknown's Battlegrounds**
Mario Kart 8*
Last Updated: May 23, 2018