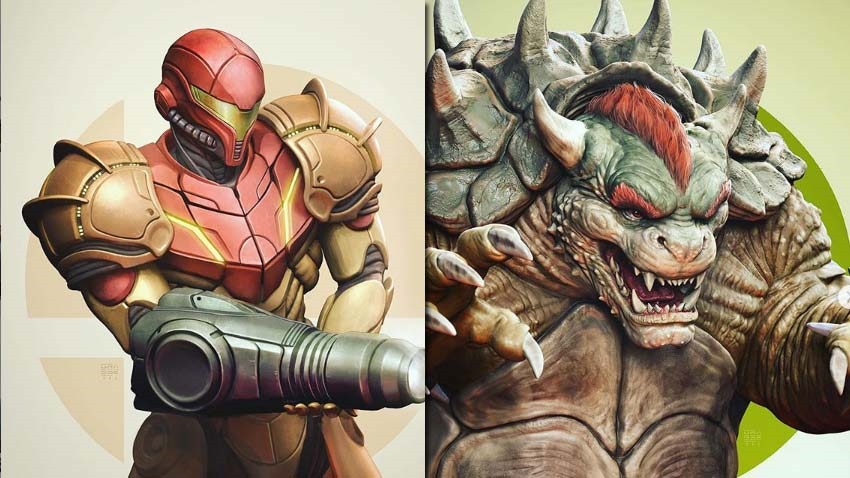 No video game is made without some prep work being done. Whether it's a doodle on a napkin or some intensive art that lays the foundation for the style of the game that is being developed, studios owe a lot to their art teams. Take God of War for instance, whose legion on designers and talented artists turned in numerous designs for Kratos and his new Nordic world, helping to craft the land and the tale that became one of the best games of all time.
All of that skill was corralled under developer Sony Santa Monica's higher-ups, with art director Raf Grassetti being the big cheese in charge of that team. With a journey that took years to design and craft behind him, Grassetti has been focusing on some more cathartic art lately, as the master artist has begun redesigning the mammoth cast of Nintendo's brilliant brawler Super Smash Bros. Ultimate.
So far, Grassetti has produced five of these visual reboots as part of his Super Smash Bros. Remastered art series over on Instagram. What do they look like? I'll tell you this much, they're well worth a smash of the like button at the very least:
Hot damn, now that's some fancy art! I particularly dig Bowser's redesign, which blends more scaly elements with the more iconic parts of his design to create a leathery new antagonist. Samus Aran, Breath of the Wild Link, Fox McCloud and Sonic the Hedgehog aren't looking too shabby either. As for Grassetti's next submission in his digital gallery? You can look forward to seeing his vision for MewTwo.
Last Updated: January 8, 2019