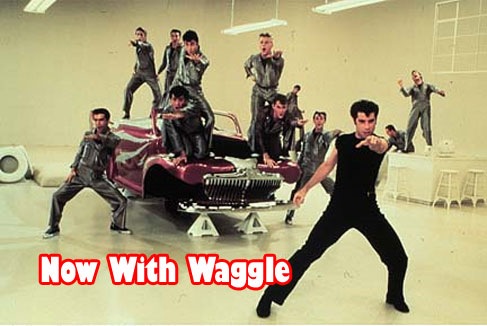 If you have an old T-birds leather jacket in storage, it's time to dust that sucker off and slather your hair with halvoline. Grease is back, this time in videogame form. 505 games has announced that they've secured the licence to produce games based on the original Broadway musical. The Wii and DS titles will allow players to dance and sing along side Danny Zuko and Sandy Dumbrowski – using the systems' respective motion control and microphones.
According to John Kavanagh – Senior Vice President of Video Games for Paramount Digital Entertainment, tha games publisher –
"Grease is the ideal opportunity to reach a broad gaming audience who love to sing, dance and have fun with a party-style game."
It's also a good opportunity for me to vomit and denounce video gaming.
God help us all.
I can only assume this is being made by beauty videogame school dropouts. I have chills (they're not the good kind) and they're multiplying. You're the one that I don't want. I have better things to do on my summer nights, thank you very much.
(PS, Don't buy the hype. Grease isn't the word. If you REALLY want to know what the word is, hit the jump)
Source : IGN
Last Updated: July 2, 2009