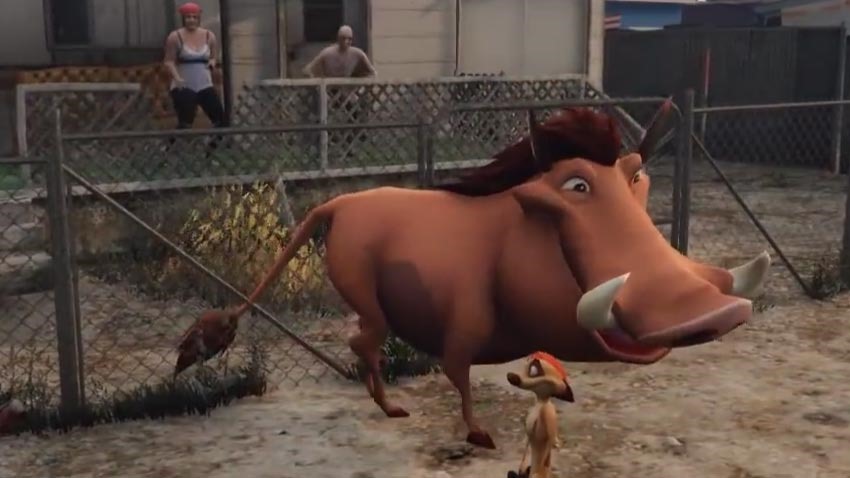 Hakuna Matata! What a wonderful phrase! Hakuna Matata! Ain't no passing craze! It means no worries and that's about as much as I'm allowed to actually print without the full force of Disney descending from the Epcot Star to sue my ass into oblivion. So you can only imagine the number of lawyers readying themselves for a takedown notice of planet-shattering magnitude at the idea of their trademarked characters being set loose on the streets of San Andreas for some gratuitous amounts of violence:
MrMarco1003 came up with the Lion King pack for GTA 5, which includes skins for characters such as Timon, Pumbaa, Ed, Shenzi, Banzai, Kiara, Nala, Scar, Mufasa, and Rafiki. Simba gets two forms, junior and adult to play around with and maul innocent bystanders. It's an utterly mental mod by the looks of things, made even crazier by the fact that Timon can wield a mobile heavy machine gun to mow down bystanders with while espousing the virtues of the Hakuna Matata lifestyle.
If you're looking to add the Lion King mod to your installed version of Grand Theft Auto 5, MrMarco1003 noted that you'll need the AddonPeds script mods to make it all function as the cast replace local San Andreas wildlife. Also worth noting, is that these skins happen to be lifted from Kingdom Hearts 2, so if Disney doesn't get MrMarco1003 then Square Enix will most likely fire off some takedown notices soon.
It's not going to be around for long.
Anyway, just another example of the wonderful lunacy of the GTA 5 modding community. A community which already has mods for Dragon Ball Z characters, Jack Burton from Big Trouble In Little China and Spider-Man for players to try out.
Last Updated: February 17, 2017