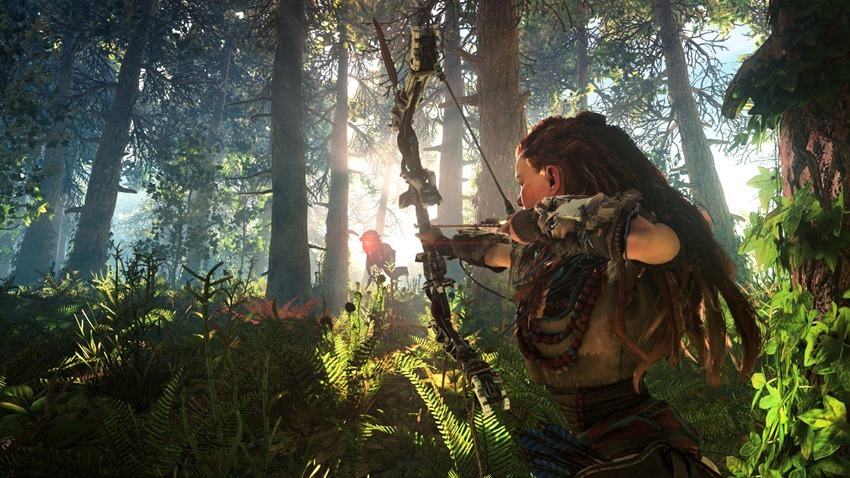 I'm in a very, very small minority of players who wasn't especially wowed by Guerrilla Games' Horizon Zero Dawn. I've found the game to be a bit of a boring slog, though the combat itself is quite nice. That may be because I started the game after playing through The Legend of Zelda: Breath of the Wild and I'm open-worlded out for the moment.
That said, it's impossible to deny that it's a beautiful game, whether played in CBR 4K on the PlayStation 4 Pro, or on the regular PlayStation 4. It's filled with sweeping vistas of a post-apocalyptic earth reclaimed by nature, and it's genuinely spellbinding stuff – and one of the most visually impressive games of the generation.
Much that is down to a blend of artistic wizardry combined with the game's proprietary Decima Engine. It's the same engine that powered Killzone: Shadowfall. While that may not have been the genre defining shooter that Guerrilla Games had hoped for, it was spectacular to look at. The Decima engine is impressive, and something many hope to see used in more games.
And it will be. Hideo Kojima will be using it for his first game since leaving Konami in one of the gaming industry's most acrimonious splits. It makes sense then, for Guerrilla to support the engine. Speaking to the Acadaemy of Interactive Arts and Sciences, Managing Director and Co-Founder of Guerrilla Games Herman Hulst said the company was investing in the engine.
"Technology has always been one of our key strengths. It's Michiel van der Leeuw's, our technical director's, brain child. Decima builds on the legacy of Guerrilla. It dates back to the late '90s when Michiel wrote his first code. It's always been very central, but I would argue that the biggest leap that our technology has undertaken has been with the rebranding of our technology into Decima.

And that was all on the back of the incredible challenge to go open-world and to make it ready for Horizon Zero Dawn. It was a tremendous challenge for Michiel's team and the progress they've made has been fantastic. It's something that we're investing in heavily and it's very important to the studio."
In an interview with Glixel earlier this year, Hideo Kojima said that his team at Kojima Productions would use the engine, and work with Guerrilla to further the engine's capabilities.
"We're using Guerilla's engine, but we're not creating the same type of game as them, so we need to add to and modify it. We'll take those modifications that we've made and give them back to Guerrilla, and together we'll create an even more powerful engine.

The original plan was to use just use what they'd built, but Guerrilla said "no, let's work on it together. Let's make the engine itself a collaborative effort." So we're working on it with them, and because it's two companies working on the same exact engine, we believe we're building it at twice the speed."
Last Updated: August 14, 2017