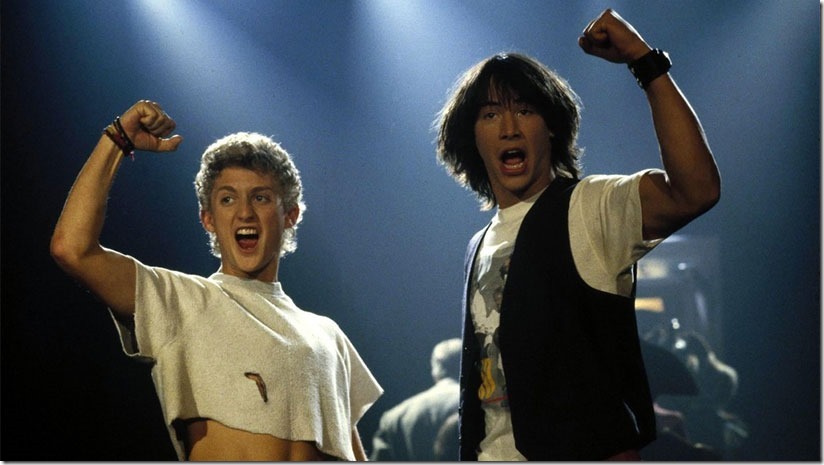 This year, it's time to party like it's 2008! Both Rock Band and Guitar Hero are back, bringing the music rhythm game genre back to life after years of dormancy. They're going about it a little differently.
Harmonix is doing their game like its's a traditional sequel, adding a 4 on the end and releasing a new game on a new generation of hardware that's functionally the same as previous games. It's bringing an expanded set list, the ability to import your previous DLC libraries and even use your old instruments, provided they're from within the same console families. It likely makes Rock Band 4 the easier, and cheaper one to jump back in to.
A music game is only as good as the music you'll be able to play within it though. Harmonix has revealed the full list of tracks on the disc that you'll be able to play. Take a look:
.38 Special – Caught Up in You
4 Non Blondes – What's Up?
Aerosmith – Toys in the Attic
Arctic Monkeys – Arabella
Avenged Sevenfold – Hail to the King
Benjamin Booker – Violent Shiver
The Black Keys – Fever
The Both – Milwaukee
Brad Paisley ft. Keith Urban – Start a Band
Brandie Carlile – Mainstream Kid
Cake – Short Skirt/Long Jacket
The Cure – Friday, I'm in Love
Dark Wheels – V-Bomb
Disturbed – Prayer
Dream Theater – Metropolis, Pt. 1: The Miracle and The Sleeper
Duck & Cover – Knock 'Em Down
Eddie Japan – Albert
Elvis Presley – Suspicious Minds
Fall Out Boy – Centuries
Fleetwood Mac – You Make Loving Fun
Foo Fighters – The Feast and the Famine
Gary Clark Jr. – Ain't Messin 'Round
Gin Blossoms – Follow You Down
Grouplove – Tongue Tied
Halestorm – I Miss the Misery
Heart – Kick It Out
Heaven's Basement – I Am Electric
Imagine Dragons – I Bet My Life
Jack White – Lazaretto
Jeff Allen – Recession
Johnny Blazes and the Pretty Boys – Cold Clear Light
Judas Priest – Halls of Valhalla
The Killers – Somebody Told Me
Lightning Bolt – Dream Genie
Little Big Town – Little White Church
Live – All Over You
Lucius – Turn It Around
Lynyrd Skynyrd – That Smell
Mark Ronson ft. Bruno Mars – Uptown Funk
The Mighty Mighty Bosstones – The Impression That I Get
Mumford & Sons – The Wolf
The Outfield – Your Love
Ozzy Osbourne – Miracle Man
Paramore – Still Into You
The Protomen – Light Up the Night
Queens of the Stone Age – My God is the Sun
R.E.M. – The One I Love
Rick Derringer – Rock and Roll, Hoochie Koo
Rush – A Passage to Bangkok
Scandal – The Warrior
Scorpions – No One Like You
Slydigs – Light the Fuse
Soul Remnants – Dead Black (Heart of Ice)
Soundgarden – Superunknown
Spin Doctors – Little Miss Can't Be Wrong
St. Vincent – Birth in Reverse
System of a Down – Spiders
Tijuana Sweetheart – Pistol Whipped
Van Halen – Panama
Van Morrison – Brown Eyed Girl
The Warning – Free Falling
White Denim – At Night in Dreams
The Who – The Seeker
While there are a few songs I'd love to power through on my fake plastic instruments, it is, for the most part, a little on the dull side. Thankfully there's that option to import DLC then, right?
Guitar Hero is doing things differently; simultaneously going back to its roots, and trying to move the genre forward. IT's a guitar only game, taking away that whole band element, but the guitar has evolved, with two rows of three buttons instead of five of them in a row. It allows for the use of real or real-ish chord shapes, and takes a fair bit of getting used to if you're used to the old way of doing things. It eschews the cartoon-like aesthetic of games past, opting instead for fully recorded live action, FMV. Because it's essentially starting from fresh, it gets to make a better selection of songs on the disc, I think. Here's that setlist (so far).
36 Crazyfists – "Also Am I"
A Day to Remember – "Right Back At It Again"
Alice in Chains – "Stone"
Alt-J – "Left Hand Free"
Alter Bridge – "Cry of Achilles"
American Authors – "Best Day of My Life"
Angus & Julia Stone – "A Heartbreak"
Anthrax – "Got the Time"
Architects – "Grave Digger"
Asking Alexandria – "The Final Episode"
Avenged Sevenfold – "Buried Alive"
Avenged Sevenfold – "Nightmare"
Avenged Sevenfold – "Shepherd of Fire"
The Avett Brothers – "Another is Waiting"
Band of Skulls – "Asleep at the Wheel"
Beartooth – "I Have A Problem"
Biffy Clyro – "Sounds Like Balloons"
The Black Keys – "Gold on the Ceiling"
Black Veil Brides – "In the End"
Blitz Kids – "Sometimes"
Blink 182 – "The Rock Show"
Bob Dylan – "Thunder on the Mountain"
Boston – "More Than A Feeling"
Bring Me The Horizon – "Shadow Moses"
Broken Bells – "Leave It Alone"
Bruno Mars – "The Lazy Song"
Bullet For My Valentine – "Temper Temper"
Calvin Harris – "Feel So Close"
Carrie Underwood – "Before He Cheats"
Catfish and the Bottlemen – "Kathleen"
Charlie XCX – "Famous"
Chevelle – "The Clincher"
Courtney Barnett – "Pedestrian at Best"
Cypress Hill feat. Tom Morello – "Rise Up"
Deap Vally – "Lies"
Deftones – "Diamond Eyes"
Disturbed – "Down with the Sickness"
Dream Theater – "The Looking Glass"
Dum Dum Girls – "Rimbaud Eyes"
Echosmith – "Cool Kids"
Ed Sheeran – "Sing"
Fall Out Boy – "My Songs Know What You Did In The Dark (Light Em Up)"
Foster the People – "Coming of Age"
Gary Clark Jr. – "Don't Owe You a Thang"
Gerard Way – "No Shows"
Green Day – "American Idiot"
Green Day – "Nuclear Family"
Haim – "The Wire"
Halestorm – "Love Bites (So Do I)"
Iggy Pop – "Lust for Life"
In Flames – "Deliver Us"
Jake Bugg – "What Doesn't Kill You"
James Bay – "Hold Back The River"
Jet – "Are You Gonna Be My Girl?"
Judas Priest – "Breaking the Law"
Kasabian – "Club Foot"
The Killers – "When You Were Young"
Killswitch Engage – "In Due Time"
Kings of Leon – "Sex on Fire"
Kongos – "Come With Me Now"
Korn – "Freak on a Leash"
Lamb of God – "Ghost Walking"
The Lumineers – "Ho Hey"
Marilyn Manson – "Disposable Teens"
Marmozets – "Move Shake Hide"
Mastodon – "High Road"
Megadeth – "Hangar 18"
MGMT – "Time to Pretend"
The Mowgli's – "San Francisco"
My Chemical Romance – "Na Na Na"
Neon Trees – "Everybody Talks"
New Politics – "Harlem"
Of Mice And Men – "Bones Exposed"
OneRepublic – "Counting Stars"
Orianthi – "Accroding to You"
Panic! At the Disco – "Girls Girls Boys"
Pantera – "Cowboys from Hell"
Paramore – "Now"
Paramore – "Still Into You"
Passenger – "Let Her Go"
Passion Pit – "Take a Walk"
Pearl Jam – "Mind Your Manners"
Pearl Jam – "Sirens"
Pierce the Veil – "King for a Day (feat Kellin Quinn)"
The Pretty Reckless – "Going to Hell"
Queen – "Tie Your Mother Down"
Rage Against the Machine – "Bulls on Parade"
Rage Against the Machine – "Guerrilla Radio"
Red Hot Chili Peppers – "Higher Ground"
Rise Against – "Tragedy + Time"
The Rolling Stones – "Paint It, Black"
Royal Blood – "Come On Over"
Royal Blood – "Little Monster"
Rush – "Limelight"
Skrillex – "Bangarang"
Sleigh Bells  – "Bitter Rivals"
Soundgarden – "Been Away Too Long"
The Strokes – "Under Cover of Darkness"
Surfer Blood – "Demon Dance"
Tenacious D – "Tribute"
Tonight Alive – "The Ocean"
Trivium – "Strife"
TV On The Radio – "Lazerray"
The Vines – "Metal Zone"
Vista Chino – "Sweet Remain"
Wavves – "Demon to Lean On"
The War on Drugs – "Under the Pressure"
Weezer – "Buddy Holly"
White Zombie – "Thunder Kiss '65"
Wolf Alice – "Moaning Lisa Smile"
Wolfmother – "Sundial"
You Me At Six – "Lived a Lie"
ZZ Top – "I Gotsta Get Paid"
Skrillex aside, there are a great many more songs in Guitar Hero's set list that I'd rather play. Truth is though, that I'd really miss the "band experience" that Rockband offers – making the choice between which to get this year rather difficult. Guitar Hero Live's TV mode also offers curated playlists based on your own musical tastes, making the decision even harder.
And then of course there's Rocksmith, for those who'd prefer to learn to play a real guitar, but miss out on the fun of the simulated experience. Based on the set lists alone though, which would you rather play?
Last Updated: January 4, 2017