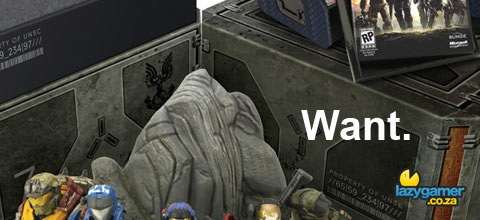 …dary!
Seriously, a lot of bundles come out these days that dare call themselves limited editions and the best way to actually describe them would be the wise words of Martin Lawrence's character in Bad Boys – "You damn right it's limited".
The Halo Reach Legendary Edition however, looks like it's really trying to live up to its name. So what's all the fuss about? To keep up the movie theme of this post, I shall quote Brad Pitt from Se7en with the following:
"What's in the booooooox?"
Good news, it's not Gwyneth Paltrow's head! Oh no, the 90's just called, they want their spoiler back.
More info and pics after the jump.
Seriously, this thing is as hot as Megan Fox's ass in the Egyptian desert, you know, from that movie about sunsets and explosions. Yeah, that one.
Where was I? Oh yes… Megan Fox Halo Reach.
Let's take a look at what makes this Legendary Edition awesome. Here's an image, click on it to make it ridiculously big.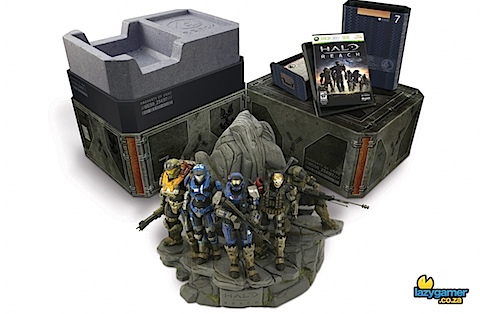 Here's the list:
Game Disc in a recovered ONI 'black box'
Manual (on real paper, take that Ubisoft!)
Elite armour set for multiplayer
Spartan armour effect for multiplayer
Flaming Spartan helmet for multiplayer
Artifact bag with personal journal of Dr. Halsey
Other 'classified' documents and stuff with secrets of the Halo universe
10 inch tall Noble Team statue designed by McFarlane toys
UNSC-themed packaging
Now, I'm not even a big Halo fan, but boy, oh boy do I want me one of these bad boys.
So, how much does it cost? Well if you are rich like Detective Mike Lowrey then you won't mind forking out $150.00, which means that it will probably sell here for around R1,500.00 or more.
A "limited" edition will also be available for $80.00, and will consist of the goodies that you see listed above, minus the UNSC themed packaging, the Spartan armor effect and the gorgeous Noble Team statue.
So, can I have one now Bungie, please? You can see a gallery of all the goodies here.
Source: Kotaku
[Ed] This was post was simply Legen…. yeah you get the idea
Last Updated: April 23, 2010