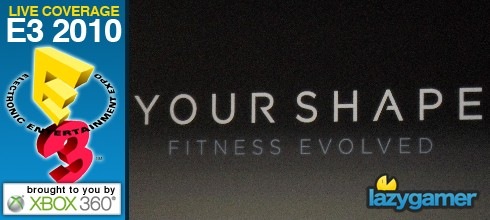 While at E3 I managed to get some hands on time with Ubisoft's upcoming fitness title for Kinect, Your Shape Fitness Evolved.
When I first heard that Ubisoft were planning a fitness title for Kinect my initial thoughts were that they were simply cashing in on the phenomenal success of Wii Fit and it would simply be a carbon copy of that game.
However after experiencing it myself I have to say that it's much more than that. The game has been entirely designed for Kinect and it works really really well.
We start off by being scanned into the machine so that it can work out all it needs to know without me having to punch in a single thing and at the same time it also moves the entire menu so that it surrounds my body. Which means I can simply move my hand slightly the to right or left and select what I want to accomplish today.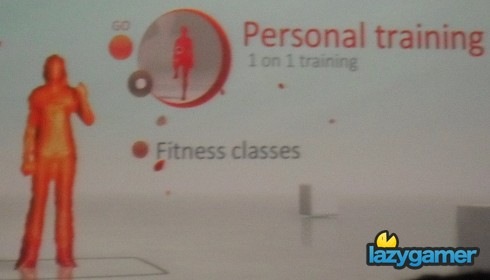 After a brief demonstration by the most perfectly toned lady I may have ever seen I stepped up in front of the camera. What instantly impressed me was that it picked me up perfectly, I was a strange orange colour for some reason but I could see the outline of my clothes and even the press badges outline on the screen in front of me.
Next up I started a personal training class which for the demo was knee lifts… The countdown hits 0 and I am now being told to lift each leg until my thigh is horizontal in rhythm to the beat.
Obviously being a lazy ass I just kind of pretended to get them all the way up but only managed about half way there, it instantly began berating me for not lifting them high enough and continued on with it's encouragement to get me to lift them all the way. Once I started doing that I started hitting the beat perfectly and was rewarded with positive comments from my virtual trainer and green points being handed over. Though I don't know what the points are for.
Next up was block smash or something along those lines.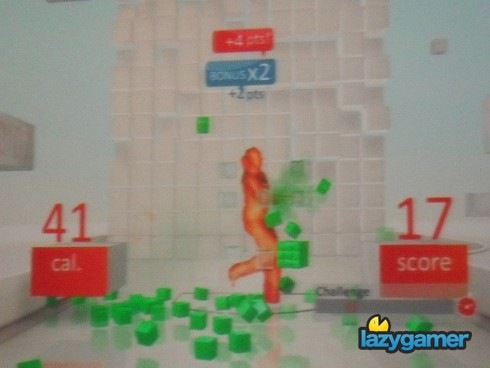 Where green squares full of mini blocks appeared on the screen in front of you and you now need to punch and kick diagonally across your body to smash them.
It doesn't allow you to punch directly as it is tracking your body so the only way to smash them is to do what you were told, they appear in a set pattern so again it's not a game as such but a physical work out. The faster you break them the more points you earn.
These points can then be used to taunt or challenge friends over Xbox Live to help build motivation and housewife street cred.
During the keynote I was quite sure I saw some bad lag in the workout portion of the title but when I was hands on I didn't notice any lag and it tracked my body perfectly.
Ubisoft's Your Shape was one of the most impressive titles at the show for me and I can bet my house on the fact that this game is going to sell like hotcakes when it gets released and it thoroughly deserves to. This title alone is enough reason to buy a Kinect and it will likely be the first title I head for when the Kinect hits the shelves.
*Obviously all these impressions are from a small demo and things may change when the final game ships. Always read the fine print 😛
Last Updated: June 21, 2010