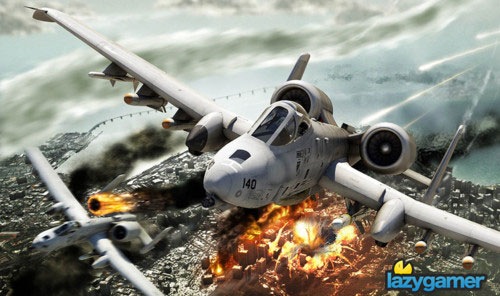 If you're a fan of aerial combat, you're no doubt chomping at the bit to jump back in to the seats of your favourite fighter aircraft. HAWX 2 gives you access to an entire carrier's worth; including the AC-130, F-16 Fighting Falcon, F-22 Raptor, F-35 Lightning II and the Su-37 Terminator.
To promote the game, Ubisoft have made a pretty awesome, and authentic retro vertical flash-based shoot-em-up in the vein of 1942 and Varth. It gives you a variety of aircraft to select from, power ups, and multiple missions. I've played through it – and it comes highly recommended as an office time waster.
Even better? Register a profile on the game and it'll track your high score. We've got local exclusivity on the game for promotional purposes, and will be using it to give you, our awesome readers, free stuff. Just keep trying to go for a high score and you could be in line to win some pretty cool prizes. which we're keeping tight-lipped about right now. Watch this space!
Game after the jump.
Last Updated: September 2, 2010