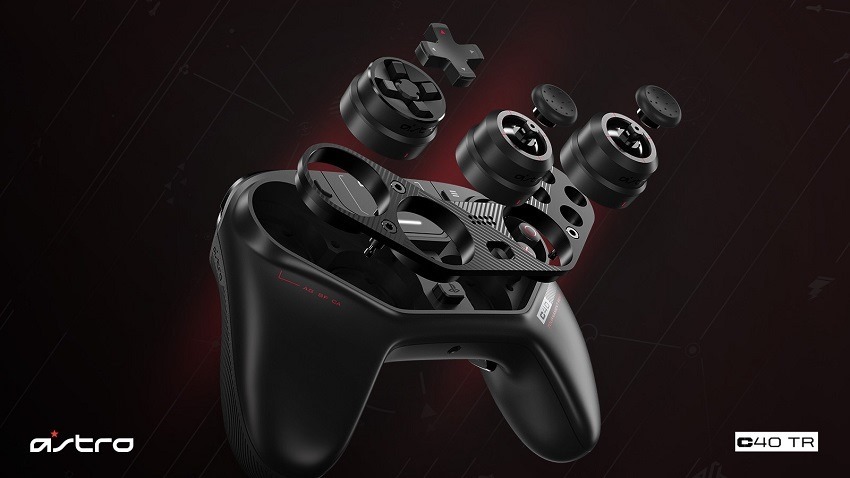 Microsoft really hit the nail on the head with their Xbox Elite Controller. Customizable, well-built and just ludicrously expensive. Sony hasn't come up with their own first-party answer to it, but have enlisted the help of many third-party manufacturers to come up with officially licensed professional controllers. And despite mainly being in the headphone game, Astro is the latest to take a crack at it. Like the Elite, it's incredibly flexible to be broken apart and put back together in many configurations, it's sturdy and also very expensive. But it's also so damn ugly.
The Astro C40 TR controller is pretty much your one-stop shop for a professional controller. The front plate can be unscrewed and removed so that you can change up the placement of both thumbsticks and the D-Pad, letting you go with the much better offset positioning or the traditional PlayStation parallel placement. The D-Pad face can also be swapped out, while the thumbstick caps will have different options for both texture and length.
On the back you can the standard additional paddle buttons which can be remapped to any other controller button, without the need for diving into software. They sit alongside trigger pin configuration options that let you cancel out the full trigger motion for faster shots in an FPS. When you dive into Astro's bundled software you'll be able to remap features such as deadzones, sensitivity, core button features and more. Additional profiles can be stored on the controller all at once too, letting you switch them on the fly.
That's pretty much everything that's special about the C40, with it also having the benefit of being used both in wired and wireless modes. It comes with a rated battery life of 12 hours (which is much higher than the standard Dualshock 4) as well as a tournament-ready carry case. It's just a pity that all of these features are buried underneath a body that is so unappealing to look at. That's not an issue if you're just looking for a precise tool to smoke the competition online, but man is it a missed chance to make something as elegant as the Elite.
The Astro C40 TR is also very expensive, ringing in at $200. That's a big investment for a controller when the console you're using it for isn't even double that price, so think hard about whether you really need it.
Last Updated: November 16, 2018