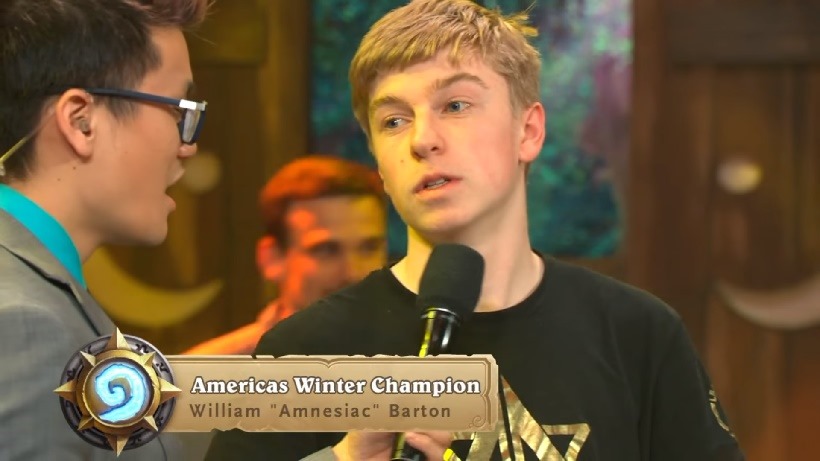 Hearthstone is slowly becoming one of the most popular, and most accessible, eSports in the world. So much so that Blizzard gave it its own Championship Circuit, one of which concluded this past weekend in North America. The Americas Winter Championship kicked off on Friday, featuring the top players from around North America. This weekend started off as nothing out of the ordinary, except for one player who won the hearts of casters and viewers. 15 Year old William "Amnesiac" Barton had a rocky start at the Winter Championship, but eventually fought his way out of the loser bracket and went on to become the youngest champion in the world.
Barton burst on to the scene in August 2015 when he topped the ladder for the season. Soon people started paying attention to the youngster, even having players seeking advice on deck building and strategy, reports Polygon. He was only 14. Barton then went on to take part in the North American Qualifiers for the World Championship, but being his first ever major tournament he failed to make it very far. None the less he stuck it out and his latest victory has earned him a spot in the World Championship later this year.
Barton walked away with a spot and $25,000 under the watchful eye of his Mother who had attended the event with him. She also stood alongside him in his post match interview, earning Barton the new nickname of "Momnesiac."
The long road to victory
As mentioned above, Amnesiac's road to victory was tough. After narrowly winning his first Best of five on Friday against Talion, he was knocked into the lower bracket by Nostram. Meeting Talion once again in the lower-bracket, Amnesiac was able to best him once more, and take down AlSkyHigh as well to earn his spot in the Grand Final. In the Grand Final he would meet Nostram, who'd been having an undefeated run so far.
Amnesiac soon took the lead but Nostram caught up. Tied at 2-2 it was Amnesiac's Control Warrior deck which bested the Reno Warlock of Nostram to earn him the title as Champion.
It's important to say once again that at 15 years old, Barton is now the youngest Hearthstone Champion ever, and this is likely to remain as the young wonder will hopefully prove himself at the Hearthstone 2016 World Championship.
Last Updated: March 14, 2016