I miss comic book crossover. There was a time when the likes of Marvel and DC could set aside their corporate differences, as they proudly allowed characters from both their respective universe to cross on over and interact in a quest to save the day. Spider-Man once learnt that punching Superman was about as effective as trying to stop a hurricane with farts, Batman outwitted the Hulk in hand to hand combat and even the Avengers once fought the Justice League to a standstill.
These days, Marvel prefers to keep its characters under lock and key over in the Disneyland gulags. The days of Iron Man and the X-Men meeting their counterparts from other universes, is an idea that's deader than all the Cuban children that the head of Walt Disney feeds on while using his terrifying mechanised spider body.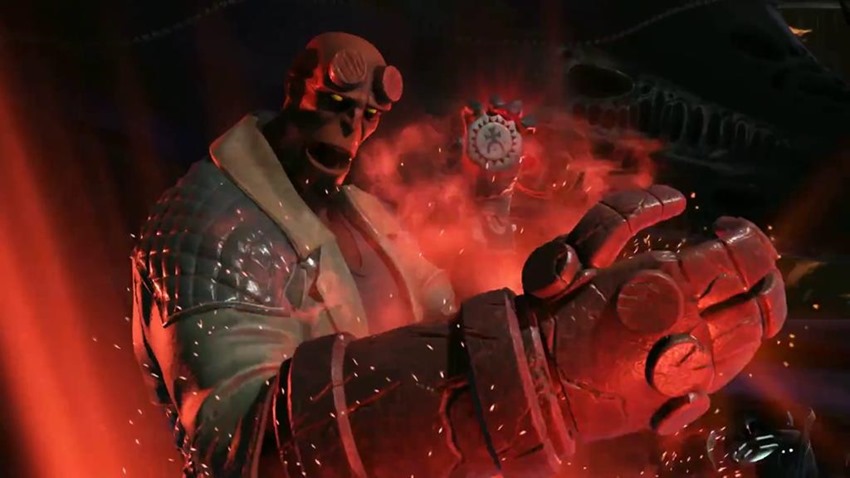 DC on the other hand, has been particularly keen on crossing over with other publishers recently. The Power Rangers, Teenage Mutant Ninja Turtles and even Conan the Barbarian have made their presence known in the pages of DC Comics. It's an idea that clearly continuing in the video game department with Injustice 2, as DC's finest are about to get a taste of hell. Hellboy that is, as Dark Horse Comics will soon be making their presence felt in the best fighting game of the year:
Hellboy will unlock on November 14 for anyone who dropped some cash on the Injustice 2 Ultimate Edition, Injustice 2 Ultimate Pack or Fighter Pack #2. As per usual with all other DLC fighters, keep an eye out for a trial run of Hellboy in the Multiverse. Y'know what I dig about this character from that trailer? That developer NetherRealm decided to use his original comic book look as the canvas for a digital recreation.
While Ron Perlman decked out in red prosthetics may be the default image that comes to mind when Hellboy is mentioned, I have a soft spot for his proper comic book design. Hopefully this will also help me forget that time when Mortal Kombat decided to use the remake version of Freddy Krueger instead of the far superior Robert Englund legend for that horrific crossover of movie maniacs and martial artists.
Last Updated: October 30, 2017