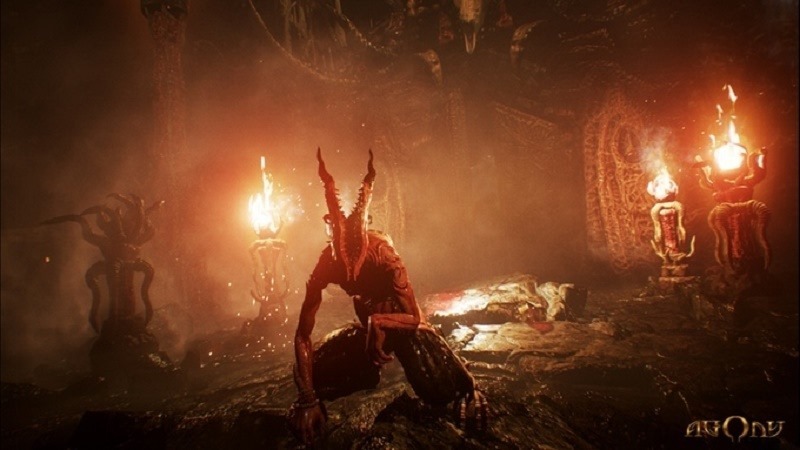 Back in May, I told you all about a Agony, a game where the premise is quite literally "survive hell". The horror title sadly failed its first Kickstarter campaign last year, raising only €3,327 out of its €544,400 goal, but after seemingly successful showings at several expos over the past few months, like Gamescom and PGA, it's back for a second attempt at crowd funding (via Destructoid).
This time around however, the developers, Madmind Studio have a far more realistic goal. Instead of looking for half a million euros, they've set their sights on a smaller number – a casual $66,666. At time of writing, they've already raised $7,861, and they've still got 39 days to go. I think they might actually make it.
So, what's Agony all about, and why should you fund it? Well, If you've got a thing for horrors, and you want something that looks truly terrifying, I do think the game looks the part. Here's its premise, along with the latest Kickstarter trailer:
You will begin your journey as tormented soul within the depths of hell, without any memories about your past.

The special ability to control people on your path, and even possess simple minded demons, gives you the necessary measures to survive in the extreme conditions you are in. By exploring the hostile environment and interacting with other weary souls of the hellscape, the hero will soon understand that there is only one way to escape from Hell, and it will require meeting the mystical Red Goddess.
Personally, I don't think I could ever get myself play Agony. Remember, I'm a big wuss, and it looks like Madmind have put together a game that's filled with all sorts of NOPE, so yeah.
What about you though? Does Agony look like your cup of tea? Are you going to help kickstart it?
Last Updated: November 1, 2016