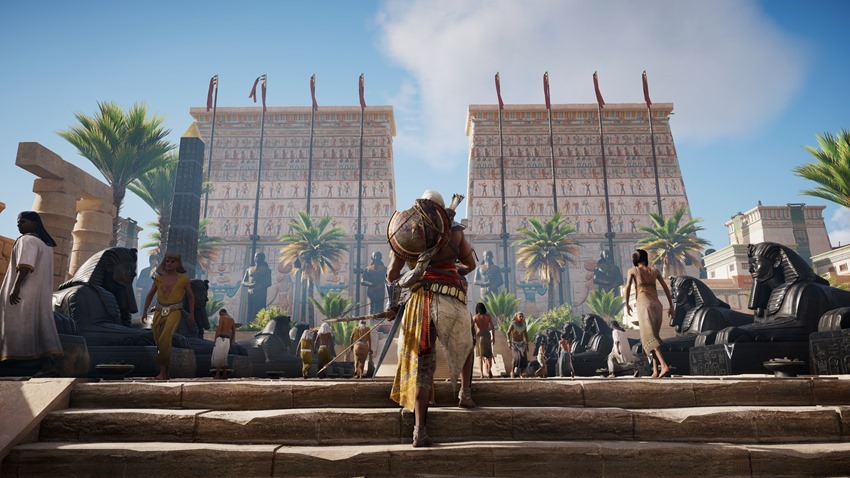 I am frightfully excited for this year's Assassin's Creed. It's more than just the extra development time, the expand3ed, more visceral combat or the more meaningful side-quests and tomb raiding puzzles. A lot of it has to do with the setting. I've been enamoured with Egyptology for as long as I can remember – so a series that does digital, historical tourism so well tackling that era tickles me. That, and I also have a hetero mancrush on lead signer Ashraf Ismail, whose passion exudes through in everything he does. And yes, the fact that you can pet cats.
Moving swiftly on, the game is out on October 27 (Soon!) and for a change, it's coming to PC at the same time as it hits consoles. Ubisoft has revealed the minimum and recommended PC spec configurations.
The minimum and recommended specs for Assassin's Creed Origins are the following:
MINIMUM CONFIGURATION
OS: Windows 7 SP1, Windows 8.1, Windows 10 (64-bit versions only)
PROCESSOR: Intel Core i5-2400s @ 2.5 GHz or AMD FX-6350 @ 3.9 GHz or equivalent
VIDEO CARD: NVIDIA GeForce GTX660 or AMD R9 270 (2048 MB VRAM with Shader Model 5.0 or better)
SYSTEM RAM: 6GB
Resolution: 720p
Video Preset: Lowest
RECOMMENDED CONFIGURATION
OS: Windows 7 SP1, Windows 8.1, Windows 10 (64-bit versions only)
PROCESSOR: Intel Core i7- 3770 @ 3.5 GHz or AMD FX-8350 @ 4.0 GHz
VIDEO CARD: NVIDIA GeForce GTX760 or AMD R9 280X (3GB VRAM with Shader Model 5.0 or better)
SYSTEM RAM: 8GB
Resolution: 1080p
Video Preset: High
The game will also have more options for PC gamers, to get the best out of the game, one in a series that traditionally hasn't performed exceptionally well on the system. The game will use dynamic rendering, which means that the resolution will change on the fly to run as well as it can. If your system is powerful enough, you could – theoretically – run the game at 4K with an uncapped framerate.
"Assassin's Creed Origins on PC uses a technology called Dynamic Resolution Rendering that adjusts the resolution on the fly to ensure a framerate as close as possible to the targeted one – in most cases it's totally invisible for the user. On PC, On PC, players can actually choose what baseline framerate they want to target: 30, 45, or 60 fps. They can also select their maximum framerate between 30, 45, 60, or 90 fps, or decide to completely uncap it."
On top of that, the Pc version will feature new features that aren't present in the console versions, and also have never been in the PC versions before – like a built-in benchmarking tool.
"For the first time in Assassin's Creed, we have a benchmark built-in to help our players to validate their tweaked settings.

In-game performance analysis Our engine constantly monitors and tracks the performance on PC (FPS, CPU & GPU usage) to allow our players to profile how their hardware is performing. They can then leverage this information to tweak the game options and improve performance."
PC gamers will also be able to implement supersampling or oversampling within the game.
"If your hardware is powerful enough to render in ultra high resolution (like 4K) but you don't have a 4K screen then this is for you! You can tell the engine to render the game in higher resolution so that you can benefit from Oversampling or Supersampling. You can also decide to do the opposite: force the game to render in a smaller resolution and always upscale it to your screen resolution. The choice is yours."
The one negative, of course, is that the game does require an active uPlay account, even though the game will be available through Steam. Win some, lose some.
Last Updated: October 6, 2017