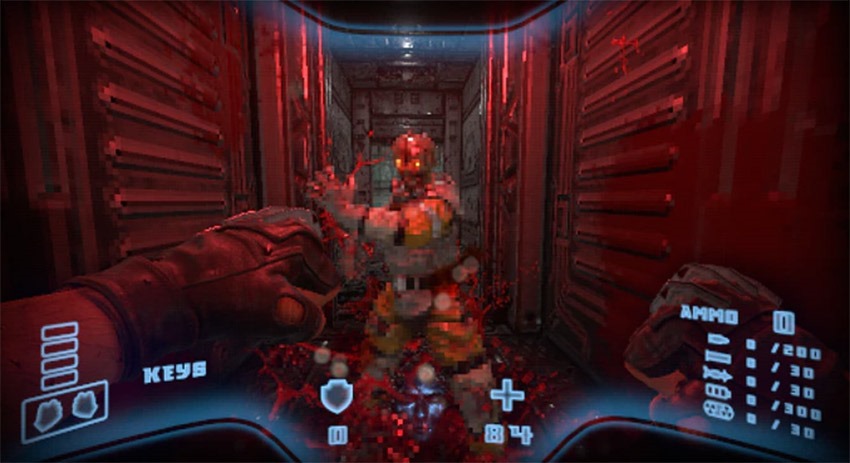 A couple of months ago, I wrote a post on Prodeus, a game which still looks metal as f***. It's like DOOM, but it's also kind of like DOOM. Which may sound confusing but hear me out here: Imagine the fast-paced feel of the new DOOM which emphasises speed and brutality, but adds in some retro flavour in the form of ye olde school DOOM visuals.
The results looks pretty nostalgic and contemporary, as you can see in this fresh slice of pre-alpha gameplay. Here's a look at it, along with some flavour text to set the mood.
Prodeus takes the look and feel of the iconic 90's shooter and reforges it in the crucible of Moore's law. More action, more explosions, more blood, and more over the top visual effects. At its core, Prodeus is a fast paced action shooter with lots of environments to explore and secrets to discover. In our game, you play as a corrupted agent of Prodeus, hell bent on destroying your creator and everyone that gets in your way.
Hells yeah. Look good? Well Prodeus is currently looking to grab some crowdfunding cash, with the project sitting on Kickstarter right now. So far, Prodeus has $37 000 pledged out of the $52 500 it needs for its team at Bounding Box Software to knuckle down and complete work on it. A donation of $20 gets you not only a PC key for Prodeus, but also a console key for when it hits Xbox One, PS4 and Nintendo Switch:
We're also developing a powerful and intuitive level editor that makes creating unique, hand crafted experiences, fun and easy. What's more, this editor will ship with Prodeus along with the community tools that make it easy to share your maps, as well as browse, play, and rate other community levels. We're aiming to ship Prodeus into Early Access in fall of 2019, followed by a full release in 2020.
I need it, I want it and I hope that Bounding Box Software get the crowdfunding support they have as the campaign has a mere 13 days left at the time that this article was written.
Last Updated: April 12, 2019