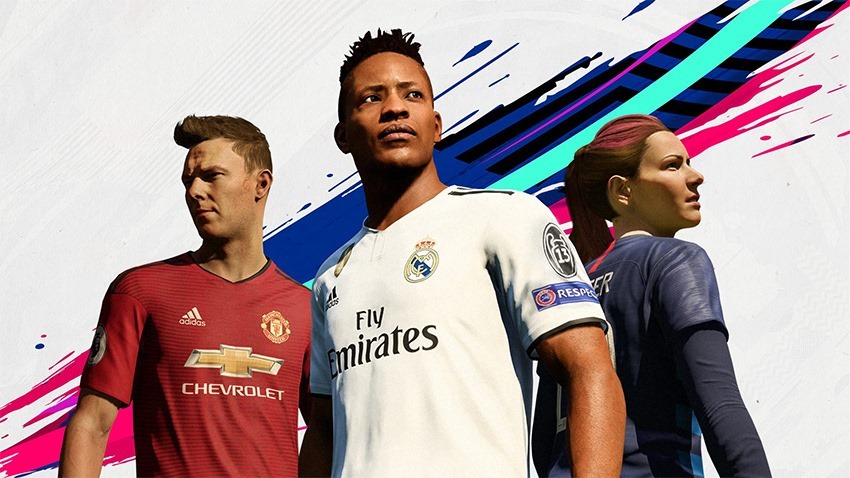 This year's FIFA wraps up faux digital footballer Alex Hunter's three-season story. Debuting in FIFA 17, The Journey told the story of up-and-comer Alex Hunter as he made his way through from playing in an under 11 side, all the way to the Premier League – and beyond. In this final chapter, players will get to play three complete intertwining stories as Alex, his friend and rival Danny Williams and his half-sister Kim Hunter. If you need a recap on what's happened so far, there's one here.
Alex's part of The Journey heavily features the UEFA Champion's league, which is new to FIFA after the license was unceremoniously yanked away from Konami's Pro Evolution Soccer this year. It'll be woven into Hunter's story, which sees him playing for Real Madrid. I suspect the story was supposed to feature Cristiano Ronaldo in some capacity as his teammate, but his surprise move to Juventus may have changed all of that. Now, according to EA, you'll "cross paths with some of the world's most famous footballers, including Neymar Jr., Alex Morgan, Paulo Dybala, Kevin De Bruyne, and more."
Take a look!
The Journey: Champions follows three heroes with their own distinct stories. Guide Alex Hunter, Danny Williams, and Kim Hunter through their respective journeys as they reach some of the most significant moments of their careers. As their stories intertwine and occur simultaneously, switch between all three characters at any time to change up your experience.
FIFA 19 is out on September 28 on PC, PS4, Xbox One. There's a Switch version too, but it won't run on Frostbite or contain the story campaign. Maybe we should get Darryn to play it and stream it, because we could all do with a good laugh at watching the world's worst digital football player in action. The bastard actually keeps on referring to the game as "soccer", so this would also be an apt punishment for him.
Last Updated: August 22, 2018