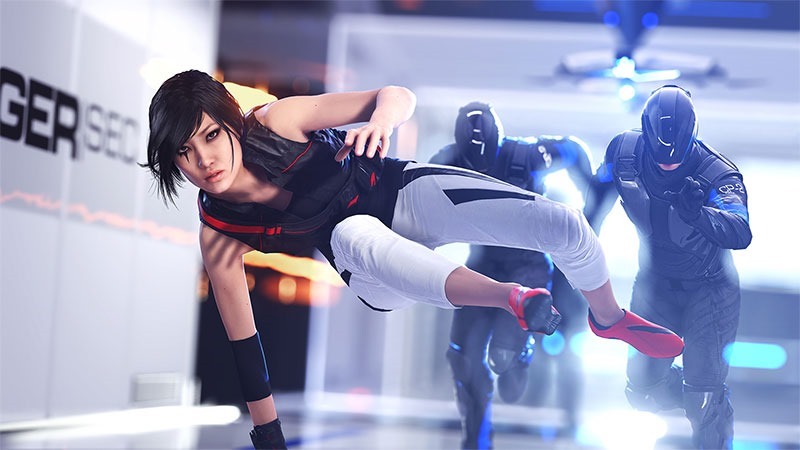 It wasn't quite everyone's cup of tea, Mirror's Edge. While I loved the vibrant and colourful first person parkour platforming; the point of view, perspective and pace made many want to vomit in to their own red shoes. It's a game I'm pretty excited for, and it's coming up rather soon. On June 7th in North America, and June 9th in Europe you'll be able to take Faith for a run.
More of a reboot than a sequel, this new game mixes the formula up by turning the mostly linear first person platforming in to a bit more of an open runner and it works, if the recent beta is anything to go by.
And here's the game's launch trailer, coming two weeks before the game hits. Remember, if you have EA Access (or Origin access on PC) you'll be able to play the game a week or so before it's out. You'll only get to play 6 hours of the game instead the usual 10 – presumably because it's possible to finish the game in that time if you speedrun.
The trailer itself isn't the most exciting, I don't think – but it does what it sets out to do – because I feel like going out for a run. And hopefully not kill myself as I try jump from rooftop to rooftop.
"Times are about to change in the city of Glass. Barely out of juvenile detention, skilled Runner Faith Connors stirs things up with the city's Conglomerate and the evil Gabriel Kruger. Faith is forced to start running for something far more important than herself.

Experience the origin story of Faith and master her momentum to traverse the city and fight back against the oppressive powers. Exploring the pristine city districts you'll discover new friends, exciting missions, and hidden secrets. With Social Play you can challenge your friends by creating time trials among the rooftops."
Last Updated: May 25, 2016