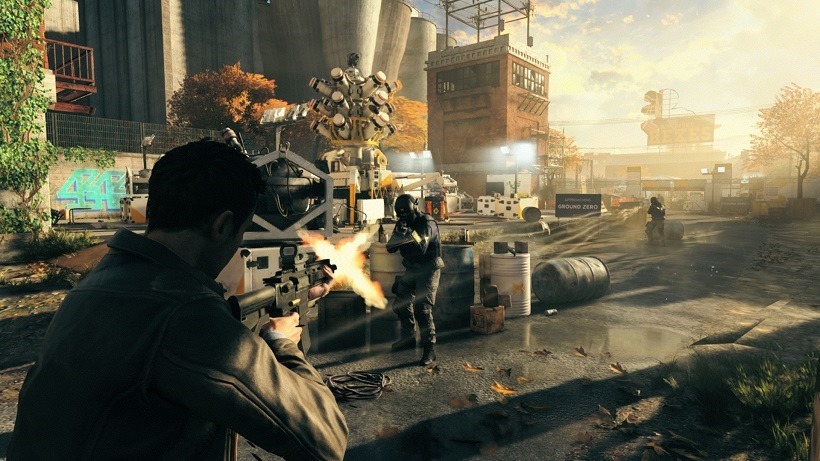 Around this time last week a handful of media got treated to Microsoft's summer showcase in sunny San Francisco – a world from any of us stuck on the southern tips of the globe here. Microsoft used the event to show all sorts of games, approaches to PC gaming and more, and no other title was more front and centre than Quantum Break. The recently gone gold shooter from Remedy Games, Quantum Breaks puts the power of time in your hands – and looks incredibly slick while doing it.
Thankfully for us stuck at home, Microsoft wasn't shy when it come to some gameplay recordings of some of the earliest parts of Quantum Break, which invaded the internet when the embargo dropped late last night. If you're looking to see some of the opening minutes from the third-person shooter, as well as a look at some of the early time powers protagonist Jack Joyce, IGN has you covered.
If early gameplay isn't what you're looking for, then take a little trip forward into Quantum Break's campaign to see how enemies starting using your own time manipulation against you. With the ominous Monarch Solution in pursuit of Joyce, you can be damn sure that they're going to bring their own technological expertise to shootout – breaking your mastery of time and inflicting their own breaks as well. It's all down below.
Although Quantum Break might have scaled back some of its plans for a TV show tie-in, a lot of the game's story is delivered through lengthy, live-action cutscenes. Featuring some remarkable actors, these sequences are woven in-between gameplay segments, moving the story forward with brisk pacing. The way these sequences interest gameplay can be seen below.
Remedy has revealed that these live-action cutscenes won't actually be on the disk, but rather streamed or downloaded as you play. That's a concern if you're internet isn't exactly up to scratch, and I can only assume that the space required for these to be on disk wasn't manageable.
Regardless, Quantum Break is looking increasingly incredible every time I see it, and with the renowned Remedy behind it I can only hope for a narratively tight action-adventure that will deliver on all fronts. It's out on Xbox One and PC on April 8th.
Last Updated: March 2, 2016