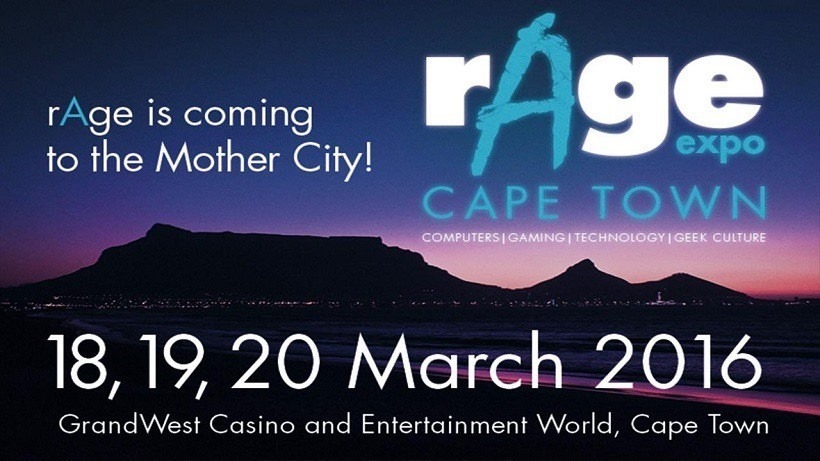 Next weekend, the long-standing gaming and geekiness expo, rAge, makes its Cape Town debut. Once starved for conventions of this ilk, people who live around The Mountain now have two annual geeky expos to look forward to. We're nt here to talk about the other one though – because rAge is nearly upon us.
Kicking off next Friday, rAge Cape Town at the GrandWest Casino and Entertainment World in Goodwood will offer a host of fun things for geeks and their families to do.
"The typical rAge visitor is intelligent, connected, demanding and has a love for gadgets and interacting with the world in new and exciting ways," rAge hyperbolically says about rAge. "rAge provides a platform for them to experiment with new games, tech and geeky endeavours for themselves. It's the place to go each year to see all the latest goodies presented in an accessible way, and to be surrounded by people who all share the same passion."
It'll certainly be fun. As you may or may not know, we've got 10 sets of family passes for the event to give away, courtesy of the events lovely organisers. Here's who's won.
Angus Pollock, Wihan Cahill, Dwayne Riedel, Akhona Mbenyana, Leroy Burgess, Roger Odendaal, Enrico Cottee, Ashley Barnard, Kuben Govender and Tasneem Carlse.
To the ten of, congratulations – and please keep an eye on your mailboxes (and your spam filters). We'll be mailing you soon to get your information.
Last Updated: March 8, 2016