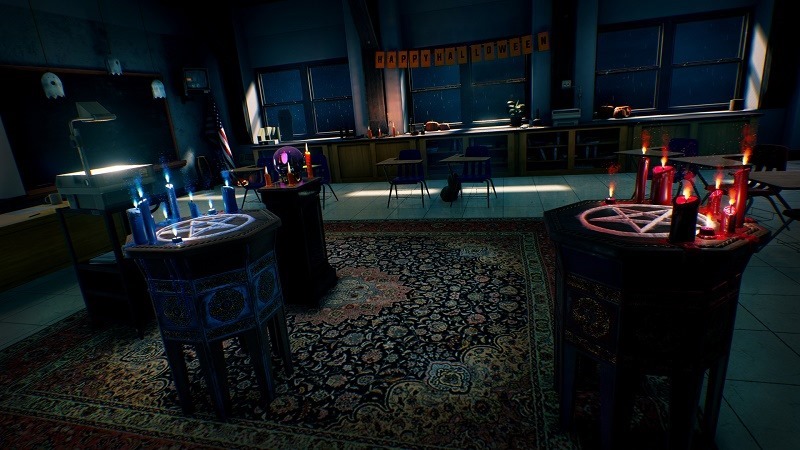 Some people choose to celebrate Halloween by dressing up and going out for a night on the town. Others prefer to commemorate the spooky holiday by enjoying a whole lot of horrific media, like scary movies or games.
I'm guessing many, if not all of you, fall into the latter camp this year because, well, Monday isn't exactly the best day to go out partying. That, and I'm sure many of you did just that over the weekend anyway (assuming you celebrate Halloween in the first place).
The only problem now is, what do you play or watch? You've seen The Exorcist over 9000 times, and you've exhausted your supply of horror titles to the point that they garner a yawn on another play through. So, what do you do?
My suggestion? Grab a friend, and two copies of new scare title, Hide and Shriek, which is going for just R52.00 on Steam at the moment. Here's what it's all about:
Hide and Shriek™ is a one vs. one multiplayer romp played out in ten minute matches. Your objective is simple: be a mischievous little rascal and scare your opponent half to death before time runs out! If there is no clear winner when the timer stops, the player with the most points wins the game. Points can be acquired by scaring your opponent, luring them into traps, or performing an ancient ritual.

There is just one catch: you are both invisible!

You will need to use cunning traps and potent spells to reveal your opponent. Once you spot them, sneak up on them and give them a good scare! Just remember they are looking for you too, and if you`re not careful you might be the one jumping in your seat!
Play with friends or strangers in ten-minute one vs. one multiplayer matches!
You are both invisible! You will need all your cunning to spot your opponent: look for doors opening, objects flying in midair, or traps being sprung!
Over thirty different spells to discover, each with their own impish effect: blind your opponent, booby-trap doors, unleash a demon upon them, and much more!
Shriek at your opponent to scare them! Use scary masks of famous characters like Donald Trump and Hillary Clinton, or use skulls and zombie heads that can be modified with accessories like gooey eyeballs, bloody hatchets, and much more!
Dominate the leaderboards or get scared trying!
Alessandro and I both have copies of Hide and Shriek. We were just a little too busy this weekend to give it a proper bash unfortunately. We really wanted to have footage of our shenanigans up for your enjoyment today! Don't worry though, we'll have a Let's Play out and about soon enough.
In the meantime, I'd suggest you go and grab Hide and Shriek yourself if you've got nothing to play tonight. Don't forget to rope in a mate for the ride!
Last Updated: October 31, 2016