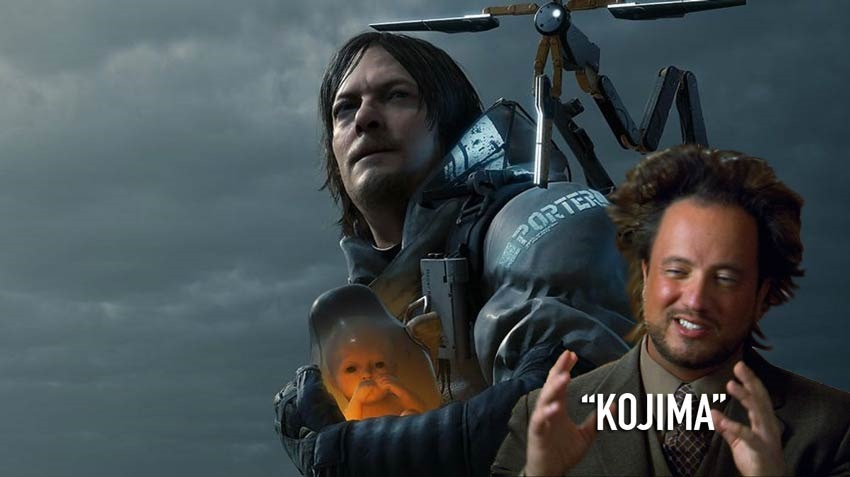 Death Stranding is many things, from a bonkers post-apocalypse that allows for caught in limbo baby spirits to be breastfed to a stingy simulator of camping that refuses to allow you to look at Norman Reedus' penis when he takes a whizz, but what it definitely isn't is a game that's easily explained. Is it Hideo Kojima's version of that crap Kevin Costner movie The Postman? A high budget excuse for him to meet more people in Hollywood?
Is it the Bob Dylan of video games, an incomprehensible collection of ideas that only makes sense to Kojima himself and duh you guys are idiots you have now idea how deep this is Kojima is a GENIUS?! If you really want to know what Death Stranding is about and you don't have time to listen to Kojima's friends try to explain it while losing track of the plot and deciding to babble about their fondness for the developer, then go to the source!
Kojima recently took to Twitter to explain more of the concepts regarding Death Stranding, likening its ideas around the Social Strand System to being what Tactical Espionage Action was for Metal Gear Solid:
…I'm still confused, but that's just par for the course when it comes to anything that has Hideo Kojima's mark on it. Death Stranding is out in November and whether it's as genre-defying as the current marketing push wants you to believe or your typical hype in action, at least its insane premise isn't boring.
Last Updated: August 27, 2019