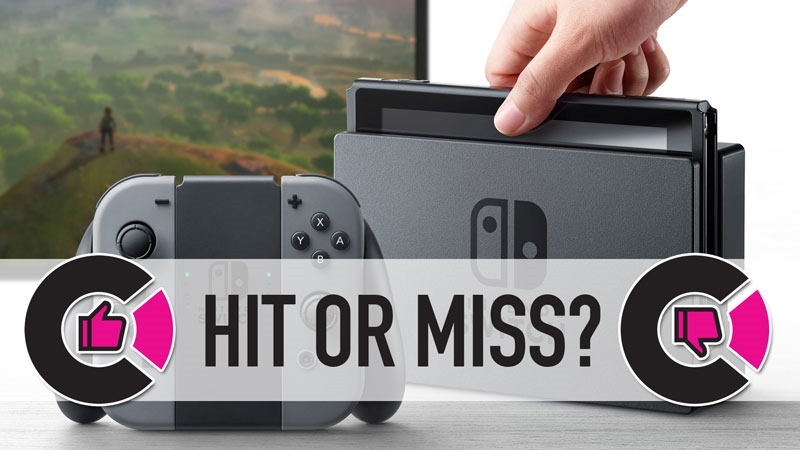 You've probably already been inundated by the Nintendo Switch coverage today, but tough! We've got a lot more to say about the Switch.
As you already know it's a hybrid handheld home console, letting you undock the unit and play games on the go. Today Nintendo revealed that you'd be getting roughly 3-6 hours of battery life from the thing, though you can charge it using USB, so plugging it in to a car or a power bank is a doddle. Nintendo's never one for specs, but the system certainly seems like it's capable of giving us a good time.
As for the event? I thought it was…well, okay. It left more questions than answers. Its biggest problem? Not enough software. There are just a few confirmed launch titles, and very few of those are must have games. Yes, there's The Legend of Zelda: Breath of the Wild, which looks incredible – but there's nothing else in the launch library nearly as compelling.
Yes, there were a few other highlights – like the final confirmation that Skyrim is coming to the system, meaning you can FUS RO DAH on the go. The new Mario, Odyssey, looks amazing and more Splatoon is always a good thing. Still, as big of a Nintendo fan as I am, I wasn't blown away. While I'll definitely want a Switch, this morning's event hasn't convinced me that I need one now.
Here's what others on the team had to say:
Matthew:
"I have a soft spot for Nintendo, so naturally, I'm very excited for the Switch. The reveal this morning may have lacked the solid launch lineup that people desire, but I'm not worried. I always end up waiting a couple of months to a year or two before purchasing a new console anyway. Come end of this year or 2018, I'm confident there will be loads of cool games to choose from. By then, I'll also know whether the Switch is something worth having, or if it's just another Wii U that ends up going unloved in the long run."
Alessandro:
"A weak conference for Nintendo, and just proof that a proper focused Direct would've been much better. The strange focus on some of the more nuanced hardware features to the controllers to the ludicrous price revealed for them after the fact where just the start of the cracks that formed around the Switch by the end of the show. Breath of the Wild looks incredible, as did other announcements like Splatoon 2, Super Mario Odyssey and more, but the lack or hard punches for launch coupled with many projects not even having launch windows is likely concerning for any on the fence sitters. Nintendo needed to hit it out the park today, but they'll just settled for a quick bunt to first plate. Disappointing."
Gavin
"I think the Switch is going to be a hit but only after release when the community starts showcasing its offerings better than Nintendo ever can."
Darryn
"Change is good. Change is what keeps gaming alive, and in an industry that is utterly dominated by Sony and Microsoft right now, the Nintendo Switch feels like a breath of fresh air…of the wild. Haw. Seriously though, the Switch looks like a gateway drug towards larger gaming experiences. Nintendo may have made their money as a home console company, but they built they built a reputation with their handheld consoles, a market which even Sony has been unable to dethrone them from. Combining both home and handheld into one device? That's genius, and a step in the right direction for Nintendo after the Wii U's dismal performance. It's a console which oozes confidence, and knows where it wants to go.

It's Nintendo finally being modern, and it's about damn time."
Kervyn
"Despite me not really being a Nintendo fanboy nor much of a mobile gamer, the Switch has intrigued me with its fun party concepts and lineup of titles. Because who wouldn't want to play Grand Theft Mario? (The pimp is in another castle, Mario!) Now if only I didn't have to look a giant playing a tiny harmonica when using those Joy-Con controllers"
But you tell us! Did the event convince you to grab a Switch, or are you going to wait until there's more on offer? Was The Switch Event a Hit or a Miss?
The views and opinions expressed in this article are those of the author(s) and do not necessarily reflect the official policy or position of Critical Hit as an organisation.
Last Updated: January 13, 2017