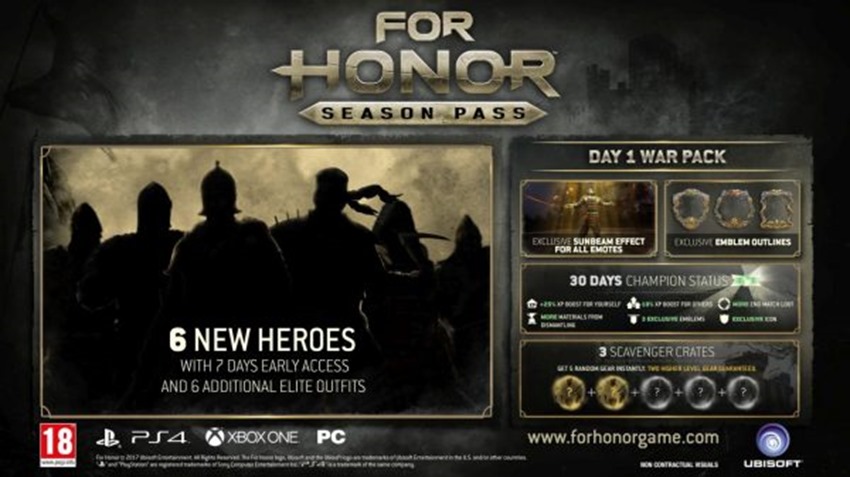 On Earth-2, Vince McMahon employs new people by yelling "YOU'RE HIIIIIIIIRED" and Ubisoft games sell with every single feature fully developed and included in the game at no extra cost. We're not on Earth-2 however, so you're still going to have to settle for the Ubi-sual content and season pass advertising that accompanies each game from that developer.
And For Honor is no different! Ubisoft's sword and ornery hero game is here in a few days, and of course it'll have some season pass goodies for you to splurge on. Which technically may be a more sound investment than a bouquet of roses or a lawyer to help you settle your court appearance for stalking Tharja's voice actress from Fire Emblem. Again.
Here's what your cash will get you:
Six all-new Heroes, available one week early
Six like super-elite and possibly sexy outfits to dress your new heroes up with
The Day One War Pack
One exclusive sunbeam effect for your hero emotes, because sunshine makes me happy
Three exclusive emblem outlines to show everyone just how totes cool you are
Three scavenger crates to help you unlock some extra gear
30-day Champion Status that will give your friends XP boosts and additional end-match loot.
Beyond that, Ubisoft says that players will also gain access to post-launch maps, gear and modes as the game builds up its community over the three seasons to come. If you're keen to try out For Honor without spending the better part of your pay cheque on it, don't forget that you can hop into an open beta from February 9-12, with the full game out on February 14.
Last Updated: February 3, 2017