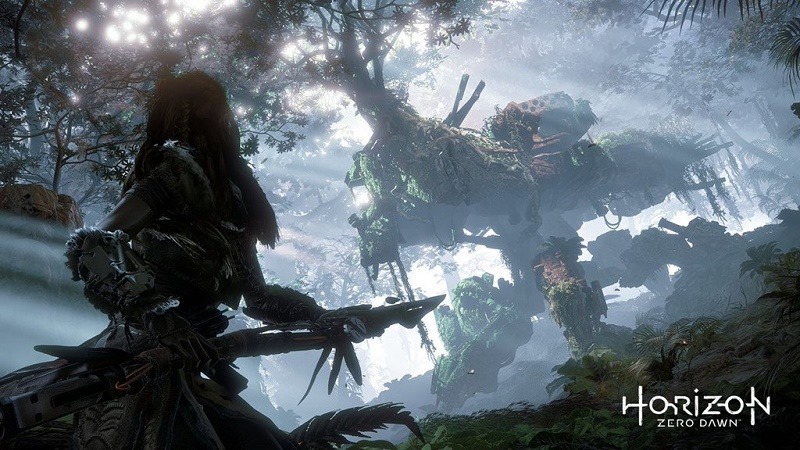 You know what was my most disappointing experience at E3? Rocking up at the Sony press area for some hands-on time with Horizon Zero Dawn, a very Portuguese thirty minutes after my appointment was scheduled. Hey, it genuinely wasn't my fault! There was some admin confusion with the allocated times and whatnot.
Anyhow, Horizon Zero Dawn is something I've been dying to play ever since it was first announced in 2015. Take a moment to imagine my disappointment at that missed opportunity of playing early code, especially so soon after hearing that the game had been delayed until 2017.
My tale doesn't end in sadness thankfully. I did get to see some behind closed doors stuff at the very least, which opened my eyes to the fact that Horizon Zero Dawn is a lot more than just a third-person action title. Underneath those beautiful visuals actually sits a very complex RPG system.
Naturally, I I wanted the game even more following that preview. Let's just say I'm a sucker for loot and customisation. Oh, and you know, giant robotic animals – their ecosystem is one I'm dying to explore!
Unfortunately, it's still quite a wait until February the 28th (over 4 months to be exact). To help distract me, Guerilla Games have now gone and released gorgeous new screenshots:
Did I say distract me? I meant MAKE ME WANT HORIZON ZERO DAWN EVEN MORE! Seriously, how beautiful are these snaps?
I don't plan on buying a PS4 Pro anytime soon, but the fact that Horizon Zero Dawn will make use of Sony's new hardware does have me sorely tempted to make the jump. Guerilla Games have done magic in the past with their Killzone franchise for example. Can you imagine the sort of magic they're going to work with that additional processing power at their fingertips? Horizon Zero Dawn looks grand on the default console as is!
Last Updated: October 19, 2016