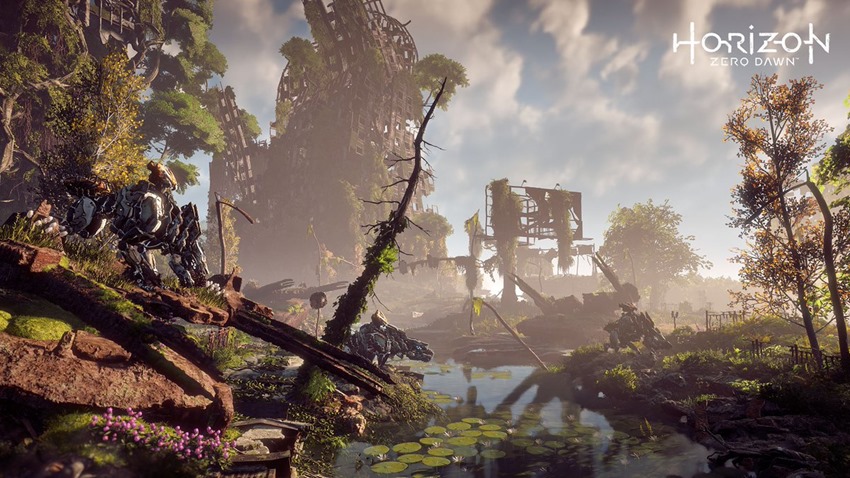 Horizon Zero Dawn is yet another critically-acclaimed PlayStation exclusive out this year. Reviews for Guerrilla's post-apocalyptic sandbox went live yesterday, and the general consensus seems to be that the game is great. Not only that, but it's a technical masterpiece – showcasing the power of the PlayStation 4 and the Decima engine.
It's one of the first games to be built largely from the ground up with support for the PlayStation 4 Pro in mind, so naturally many PS4 owners who haven't upgraded were worried that the game would run a little poorly on the base hardware. They needn't.
Eurogamer's Digital Foundry has put the game through its paces on both sets of PlayStation 4 hardware, and found that it largely runs like magic. The game appears to run at a nearly locked 30fps whether you're running it at 1080p on the base PS4 or, checkerboard 4K on the Pro.
And that's without the impending day 0patch, which will increase performance – and introduce a new mode that'll let PS4 Pro owners choose between 4K or a lower resolution, higher performance mode.
"The ability to choose between resolution and higher performance may well be the icing on the cake, on what is already a technologically outstanding title. However, even without the new mode, the combination of brilliant art design, great performance and a sublime 4K presentation make this the most impressive PlayStation 4 Pro title we've seen so far. But at the same time, it's clear that base hardware hasn't been left behind – Horizon is an equally impressive achievement for the standard PS4 too."
Horizon Zero Dawn is out locally on March 1.
Last Updated: February 21, 2017